08/30/2019
Take the Brunswick Companies BGS Challenge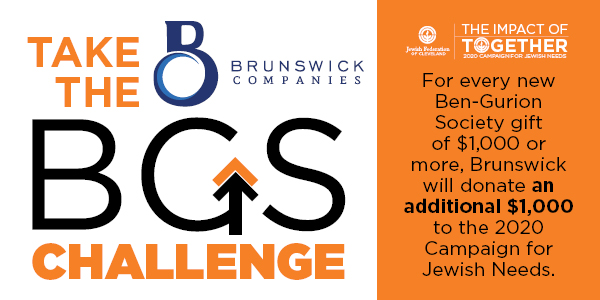 Announcing the Brunswick Companies BGS Challenge!
"There's no better way to 'insure' the future health and vitality of Jewish Cleveland than growing the number of young leaders willing to combine their knowledge, passion, and resources to build a stronger Jewish community." - Todd Stein, president and CEO, Brunswick Companies
This challenge is made possible through the generosity of the Brunswick Companies and is available through the close of this year's Campaign for Jewish Needs on December 11, 2019.
Brunswick Companies will make a gift to the 2020 Campaign for Jewish Needs of $1,000 for every new Ben-Gurion Society* gift made to the Jewish Federation of Cleveland.
Up to $60,000 is available for this challenge.
Help ensure the vibrancy and vitality of Jewish Cleveland by joining the Ben-Gurion Society today!
For more information, please contact Leah Markowicz at 216-593-2905 or lmarkowicz@jcfcleve.org.
* Ben-Gurion Society requires a minimum gift of $1,000 made by an individual or a couple (ages 22 to 45 years old)
---
Related Items