07/27/2016
Update: Cemetery Preservation Campaign
Jewish Federation Seeks $700k in Donations to Reach Cemetery Preservation Campaign Goal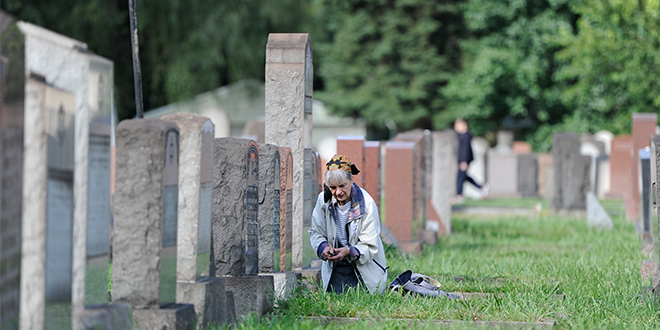 In just over one year, the Jewish Federation of Cleveland has raised close to $2.8 million for its Cemetery Preservation Campaign, putting them just $700k short of a $3.5 million goal to preserve Cleveland's older Jewish cemeteries. The Federation asks all who are interested to donate to the community-wide campaign at www.jewishcleveland.org/cemetery.
The Federation has just five weeks left to achieve the $3.5 million fundraising goal before the Cemetery Preservation Campaign closes to make way for the launch of its annual Campaign for Jewish Needs on August 30. What's the difference between the two campaigns? The annual Campaign for Jewish Needs is the annual fundraising campaign that ensures our community's vitality and vibrancy in the year ahead. The Cemetery Preservation Campaign increases the endowment for the Commission on Cemetery Preservation (COCP) to a level where it will be able to sustain the annual maintenance costs for the Jewish cemeteries under its management in perpetuity.
"This is a prime example of how the Federation focuses on our communal needs and addresses issues that affect us from birth to death, and in this case, actually beyond," said Reneé Chelm, who joins Harley I. Gross as Cemetery Preservation Campaign Co-Chairs. Both Chelm and Gross are former Board Chairs of the Federation.
In the Cleveland area, there are approximately 69,000 graves in 16 Jewish cemeteries and 3 general cemeteries with Jewish sections. Many were plagued with overgrown trees and grass, broken or missing fences, and overturned headstones. Historically, congregations and benevolent associations held primary responsibility for the upkeep of their cemeteries; but, not all have the resources needed to carry out their long term responsibility.
In 2015, the COCP, chaired by David Orlean, became responsible for the upkeep of 14,060 graves with jurisdiction of 6 Jewish cemeteries, including: Baxter Cemetery, Chesed Shel Emeth, Fir Street Cemetery, Harvard Cemetery, Lansing Cemetery, Workmen's Circle section of Lincoln Cemetery, and another west side cemetery to be added soon.
The improvement process to date has included tree removal, stone resetting, and landscaping thanks to the hire of a full-time Cemetery Manager, Brett Cochran, who works with an oversight committee to design and implement appropriate maintenance plans that ensure ongoing care of the cemeteries under the COCP's jurisdiction.
The Federation is known nationally for its leadership. The work that is now happening to preserve cemeteries is another example of how this local community leads. Other communities like Pittsburgh and Erie are using Cleveland's efforts as a guidepost for how to care for their own Jewish cemeteries.
The community is invited to participate and make a contribution to the Cemetery Preservation Campaign. For more information, please contact Elizabeth Klein at eklein@jcfcleve.org or 216-593-2835 or visit www.jewishcleveland.org/cemetery.
---
Related Items