09/01/2015
'Violins of Hope' is a Teaching Instrument
The Jewish Federation of Cleveland is honored to be a partner in the Violins of Hope program, one of our most meaningful collaborations to date. Visit violinsofhopecle.org to see all events open to the public.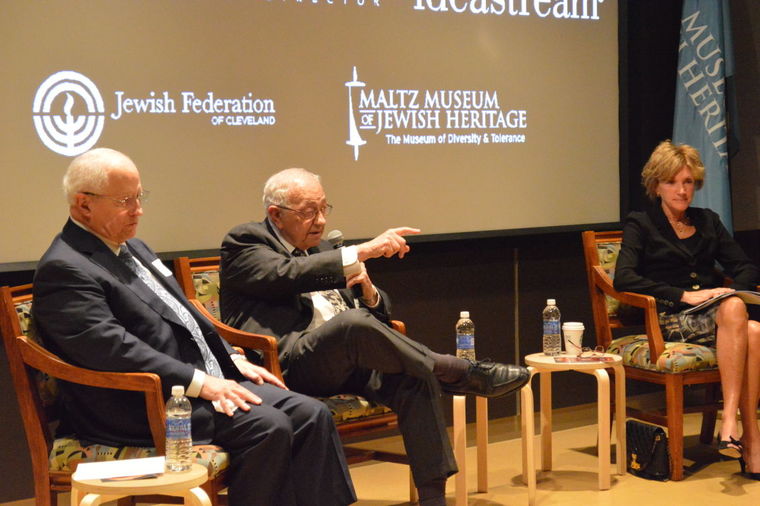 Article Reprinted with permission from Cleveland Jewish News
By Carlo Wolff
Richard Bogomolny, one of the top stakeholders in "Violins of Hope," said Aug. 28 that he hopes the "emotional content" of the project resonates with today's students so deeply that the lessons of the Holocaust will never be forgotten.
Bogomolny, the board chairman of the Cleveland Orchestra, who was instrumental in putting together the multifaceted project, made the remark at a news conference about Violins of Hope at the Maltz Museum of Jewish Heritage in Beachwood.
A multimedia exhibition featuring 18 violins from the collection of Tel Aviv violinmaker Amnon Weinstein and one from Yad Vashem, the center of Holocaust research in Jerusalem, will run from Oct. 2 through Jan. 3 at the Maltz Museum. The violins were played before or during the Holocaust. Weinstein has spent decades restoring some 60 of these violins, workaday instruments largely made in Germany.
Other stakeholders at the conference were Maltz Museum co-founder Milton Maltz, whom Bogomolny turned to jumpstart the project; Barbara R. Snyder, the president of Case Western Reserve University, where Silver Hall, the core of the imminent Milton and Tamar Maltz Performing Arts Center, will debut at 3 p.m. Sept. 27 with a gala featuring the Cleveland Orchestra and Israeli virtuoso Shlomo Mintz playing a Violin of Hope; and Mark Swaim-Fox, director of the Cleveland office of Facing History and Ourselves, which has developed Violins of Hope-related teacher workshops and Holocaust-based lessons for Northeast Ohio educators.
The new Maltz performing arts center is a two-phase, $59.3 million renovation and repurposing of The Temple-Tifereth Israel, a striking, domed 1923 structure, blending Byzantine and Romanesque styles, on the north side of Case's campus.
Bogmolny first heard of Amnon Weinstein and his Violins of Hope from Israel Wiener, the Tel Aviv-based arts and culture consultant for the Jewish Federation of Cleveland, seven or eight years ago. The idea of an exhibit intrigued him, but the economy was in recession. A few years later, Wiener revived the idea with him, and the economy had improved. Bogomolny said he soon approached Maltz, who "listened to the story, and it took him at least two minutes" to agree to mount an exhibition.
The project mushroomed when Maltz connected it to Case, where the performing arts center named after him and his wife, Tamar, was in the works. According to Bogomolny, all the elements fell into place over about three weeks; to hear him tell it, everything has run as smoothly as a Swiss watch.
"I've never seen an organization work the way this one has," said Bogomolny.
Maltz jokingly referred to Violins of Hope as a form of personal redemption.
When he was a little boy, his mother made him learn violin and bought him one three-quarter size. Bullies taunted "Miltie and his fiddle" as he walked to school toting his instrument. One day, Maltz turned on his tormentors, smashing them with his violin, which broke in the process. From then on, he played harmonica, Maltz said. But the violin still occupies a special place in his heart.
Besides the Cleveland Orchestra, which will perform under Franz Welser-Moest at Silver Hall Sept. 27, participating organizations include ideastream, which will broadcast the concert from Silver Hall live over WVIZ/PBS and WCLV/104.9 FM; the Cleveland Institute of Music; and the Federation.
Silver Hall is a 1,200-seat theater memorializing The Temple-Tifereth Israel leader and prominent Zionist Rabbi Abba Hillel Silver.
---
Related Items