07/25/2016
Weinberg Mission to Israel Inspires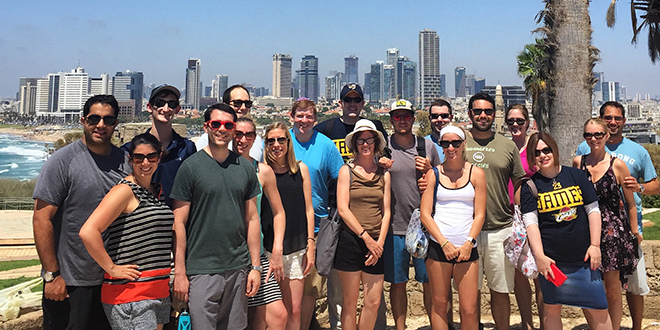 Innovation, Leadership, and Identity: This is the theme of the Young Leadership Division's (YLD) Weinberg Mission to Israel. 18 Jewish Cleveland young leaders had the adventure of a lifetime, experiencing Israel's vibrant arts and culture scene, learning about innovative technology, networking with leadership in the nation's up and coming industries, tasting the flavors of the country, and more. Check out their Mission blog below!
The Young Leadership Division's Weinberg Mission to Israel was generously supported by Penni and Steve Weinberg.
TEL AVIV: July 10 – July 12
by Jessie Bruder, YLD Director
We have been exploring Tel Aviv sine our arrival on Sunday, July 10. We are walking away from Tel Aviv understanding, and loving, the rich culture of modern Israel. We began our trip at Independence Hall which is housed in one of the first homes built in Tel Aviv where on May 14, 1948, David Ben-Gurion proclaimed the establishment of the Jewish State of Israel.
We then explored the neighborhood of Neve Tzedek, which translates into "Oasis of Justice," Tel Aviv's oldest Jewish neighborhood that has been heavily influenced by its early founders, mostly writers and artists, and thrives today as a fashionable, artsy neighborhood. Our day concluded with dinner with Colonel (res) Miri Eisen, the former Israeli Prime Minister's international media advisor. Miri helped us understand the current state of affairs of Israel and its neighbors.
On Monday we began our with David Denker, JFNA Senior Associate in Government Relations, who briefed our group on the BDS Movement and how Federation is combatting BDS with the Israel Action Network. We then toured the Walla Newsroom Studio and met with political correspondent, Tal Shalev. Tal talked with our group about the importance of online Israeli news sources and specifically about her work covering Prime Minister Benjamin Netanyahu. We spent lunch in Sarona Market, the site of a terrorist attacks just weeks earlier, which was bustling with tourists and locals. The morning gave us insight into the strength and resilience of Israeli culture, that even when faced with hardship, their pride for Israel prevails. We spent the afternoon exploring Jaffa and then met up with our friend, Alex Chen, an IDF commander who visited Cleveland this past May, at Shanti House. Shanti House is a safe haven for teens and young adults needing a warm and nurturing home. Alex welcomed us with open arms and shared how Shanti House has changed her life for the better. We spent the evening exploring the hip neighborhood of Florentine.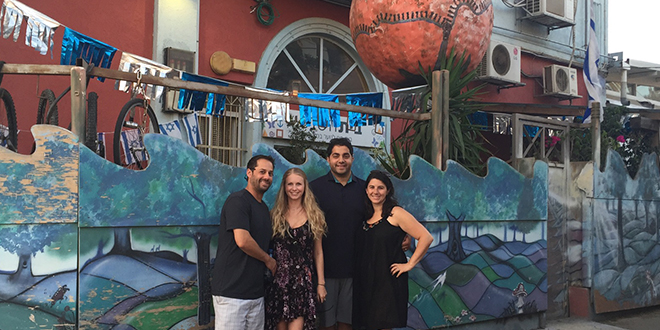 Our final day in Tel Aviv focused on the innovative startup culture in Israel. We met with several entrepreneurs and investors, learning about their companies and understanding why Israel has flourished as a "startup nation." With over 1400 startup companies and over 70 accelerator programs and co-working spaces in Tel Aviv, there is a strong and supportive network for entrepreneurs to bring their ideas to life. The afternoon was spent exploring the Carmel Market, Nachalat Benyamin (local artist and craft market), and visiting the Rabin Center, where we were able to examine pivotal moments in Israel's history and the life of late Israeli Prime Minister Yitzhak Rabin.
by Brandon Duber and Amber Greenleaf Duber, Mission Participants
The Mission's days in Tel Aviv were filled with both old and new – from Jaffa, to Independence Hall, to market of Sarona, to the Rabin Center. For those new to Israel, it was an amazing and meaningful introduction to the culture, food, and history of Israel and the Jewish people.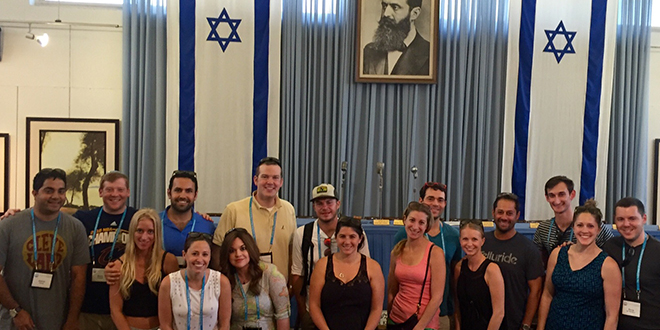 For those returning to Israel, it was a reconnection with and reinforcement of what was learned on previous trips, as well as a great way to see the yearly progress and change happening on a daily basis in Israel – both politically and from a progressive/innovation standpoint.
For all, it was a glimpse into the modern and forward-thinking Tel Aviv, with introductions to several CEOs of the popular start-ups of Israel, discussions of elevating the City's global positioning and a better overall understanding of how Israel has progressed over the years, even in the face of continuous unrest on all corners of the country.
by Barry Guttman, Weinberg Mission Co-Chair
Over the first three days of this year's YLD Weinberg Mission, we explored the consequences of what it means to have the responsibility of a Jewish democracy that simultaneously embraces Western values while functioning within the context of a governance informed by Jewish law and tradition, all while being surrounded by neighboring territories consisting of existential threats and severe instability. As someone who has been to Israel several times before, I was struck by just how much the assassination of Yitzchak Rabin continues to affect current events.
In many ways, the current State of Israel looks and feels like a posthumous response to Rabin's ideology and politics. The liberal ideology that dominated Israeli politics for the first 50 years of Israel's existence has, following Rabin's assassination and the Second Intifada, been replaced by a more conservative viewpoint that repudiates Rabin's view of land for peace.
As a result of this shift, Israel and Israelis have more questions than answers. If not land for peace, then how do we achieve peace? How do we focus on security yet still provide the resources that people and businesses need to not only survive, but also thrive? What role should international perception of Israel, particularly that of Americans and American Jewry, in Israeli policymaking?
These are tough questions, yet they are also the questions we had hoped to have the sovereignty to answer for 3,000 years of our history. Perhaps the situation in Israel was best summed up by Miri Eisen, who spoke with us on our first night here: nothing in Israel is easy. But everything here is beautiful.
HAVAT HASHOMER AND BEIT SHEAN: July 13
by Josh Adler, Mission Participant
Our visits on Wednesday to Havat HaShomer and Beit Shean made me feel connected to Israel on a new personal level and made me proud to be part of the Jewish Cleveland community. While listening to the 20-year-old female IDF commanders describe the physical and emotional challenges of leading basic training for dozens of young, at-risk men, I couldn't help but think about my 7th grade students and my Teach for America experience back home in Cleveland. Although the aspiring soldiers and my students have different backgrounds and are disadvantaged for somewhat different reasons, society has set similarly low expectations for both groups. Thankfully, the leaders at the Havat HaShomer base, a Federation-supported initiative, refuse to believe that their recruits should be defined by their troubled pasts. Instead, they provide strict but nurturing coaching, striving to empower the young men to be not only capable soldiers but also positive citizens who have an opportunity to achieve their personal and professional goals. As a teacher with a similar philosophy and hope for my students, I appreciated the efforts the commanders were making on a daily basis (including chasing after recruits who were giving up on themselves down to the bus stop) to do whatever it takes to help transform their recruits' lives.
In the afternoon we visited our partners in Cleveland's sister city of Beit Shean. The leaders provided us with a warm welcome and a delicious home-cooked meal, making us truly feel like we were in our home away from home. I admired how passionately the leaders spoke about their city. Like us Clevelanders, they have a deep-rooted pride in their town and are optimistic about its future despite all of its challenges. I was impressed by all of the efforts, from robust programming for students at the local library to the multi-year railroad construction project, the city is taking to improve the community. We finished the day with dinner, discussion, and dancing with our Beit Shean peers. While I enjoyed learning earlier in the day about the various ways our two cities collaborate, getting to bond with and get to know members of this community made the partnership between our cities feel meaningful and even more important.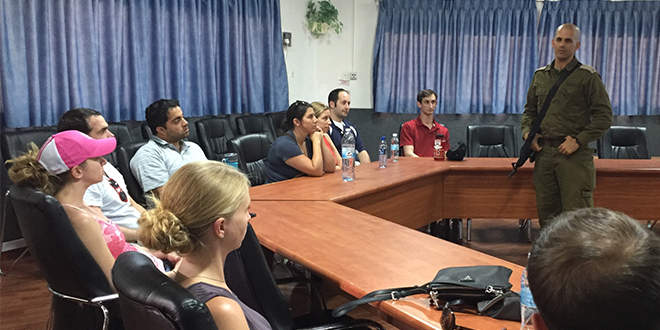 JERUSALEM: July 14 – July 16
by Jessie Bruder, YLD Director
In addition to learning the rich history of Jerusalem, as Mara reflected on below, we were able to meet with incredible young people creating positive change in Jerusalem. On Thursday evening, we met with the leadership of Dualis Social Investment Fund, is a nonprofit organization which achieves social impact in Israel through building and investing in for-profit social businesses that train and employ at-risk populations, similar to EDWIN'S in Cleveland. We ate at one of Dualis' restaurants, ANNA, and dined with several young adults that run programs for at risk youth in Jerusalem. It was a moving experience to meet peers who share similar passions and want to help shape the future of their community. After a very meaningful dinner, we ventured to Mahane Yehuda, a bustling market that comes alive with bars and music in the evening.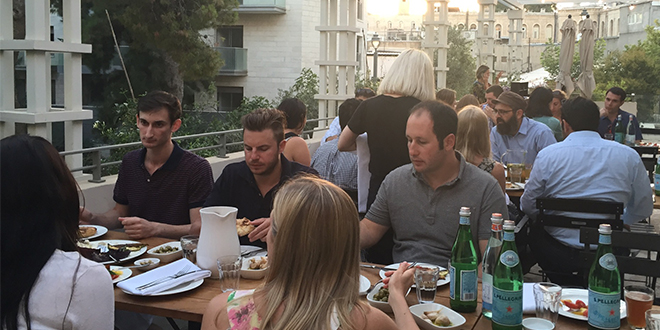 by Mara Kamat, Weinberg Mission Co-Chair
As we reflect on our time in Israel, Jerusalem and climbing Masada were key highlights. As we entered the Old City of Jerusalem we stopped to say the Shehecheyanu to open our experience and connect with the rich history and religious significance of Jerusalem. Ten years ago, my husband, Aaron, and I had the opportunity to experience Israel on Birthright and climb Masada and visit the Kotel. The Weinberg Mission however held a very different place in our hearts as we were together with an incredible group of people and we are now more mature and able to appreciate more aspects of Israel.
The Kotel has always been a meaningful, religious place and now it marks a key milestone in our life. Aaron was Bar Mitzvahed at the Kotel which was a particularly meaningful experience as he did not receive a Bar Mitzvah when he was thirteen. In Jerusalem, we were able to experience the Western Wall Tunnels. Before Shabbat, we had an opportunity for individual reflection and prayer at the Kotel. The Kotel was filled with people praying, dancing, singing, and connecting. The atmosphere was electric, invigorating, and humbling all at the same time. After enjoying the Kotel, we had the fortunate opportunity to enjoy a traditional Shabbat dinner at the Stark family's home in Jerusalem. This was particularly special as some people in our group had never attended a Shabbat dinner let alone a traditional one in Jerusalem. It was an opportunity for connection, celebration and learning.
The next day, many of us ventured to Masada where we were able to learn about the rich history and sophisticated construction. After enjoying very hot weather and a nice tour of Masada, we headed to the Dead Sea. We enjoyed our last day together floating, connecting, and reflecting on our journey together. Overall, our experience in Israel and on the Weinberg Mission was truly memorable as we established close friendships, a deeper understanding and appreciation for Israel and began to truly understand the impact of our Cleveland Jewish Federation. Thank you to the Weinberg Family for supporting us in this Mission and for your commitment to connect young Jewish people to Israel.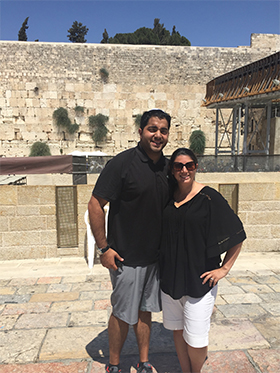 For more information on how to get involved with the Federation's Young Leadership Division, email yld@jcfcleve.org.
---
Related Items