10/27/2015
Why I Give: Meet Jim Samuels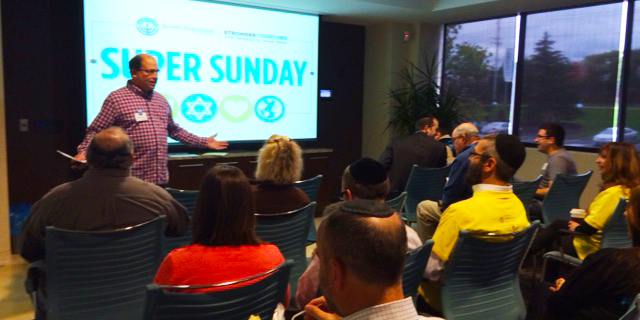 Have you met Jim Samuels? Chances are if you've been to Super Sunday, you might recognize him as one of the helpful trainers working with volunteers on event day. He's been participating as volunteer and donor for forty years and counting.
Why? Decades ago, Jim traveled with the Jewish Federation of Cleveland on a mission to Budapest, Hungary. There, he saw our community's work in action. He met the people whose lives had changed because of individual donors, collectively making significant impact in the larger Jewish world.
He saw the young smiling face of a seven year old girl, experiencing her first few days of Jewish summer camp at our Cleveland-supported program, Camp Szarvas. But, before the smile came tears. "Why are you crying?," one of the counselors asked. And she answered, "I have never seen a Jew smile before." For Jim, this was a moment he would always remember. This place, this camp, was where Jewish children could smile and feel free and happy maybe for the first time in their lives.
Camp Szarvas is a pioneering international Jewish summer camp operated in rural Hungary by our international partner, the American Jewish Joint Distribution Committee (JDC) and the Ronald S. Lauder Foundation, offering life-changing experiences for about 1,300 children and teens every summer. For many, Camp Szarvas is a chance to connect to Judaism and meet friends from around the world. It is a dynamic and vital part of the global Jewish revival. And, our campaign dollars support this effort, our community cares for Jews wherever they are – whether around the corner or across the globe.
"We make people smile," Jim said. "We comfort them when they are in need; we provide food to those who are hungry; we build Jewish identity. That's what we do." And that is why Jim gives.
Thank you to Jim, and the thousands of volunteers and donors who help change and save lives in Cleveland, Israel, and 70 countries around the globe. When we work together, none of us are alone.
Stories like this are made possible because of the generosity of our community members. Please join us, as we aspire to leave no community member behind. Donate today.
---
Related Items