03/21/2016
Women Leaning In Offers Advice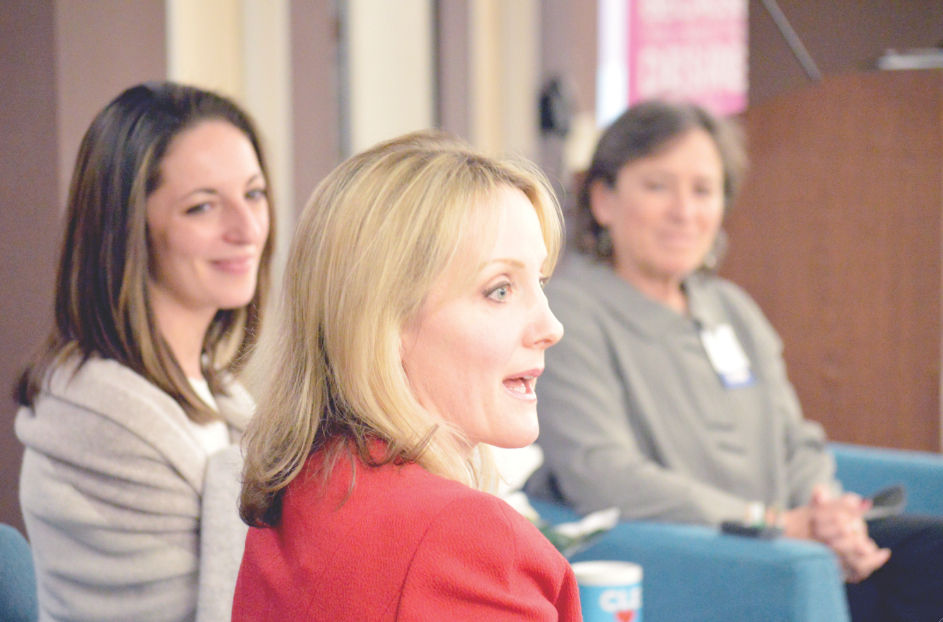 Article reprinted with permission from Cleveland Jewish News
By Jonah L. Rosenblum
Gayle Simon, co-chair of the third annual Women Leaning In event, said it from the start: "Tonight, we're going to tackle hard-hitting gender issues."
That's exactly what occurred as 200-plus women filled a ballroom at the Jewish Federation of Cleveland's Mandel Building in Beachwood to discuss how to balance family and work.
The March 9 event featured panelists Hallie Bram Kogelschatz, marketer and co-founder of shark&minnow; Judy Rosman, president of RosmanSearch, Inc., a neurosurgeon recruiting company; and Eileen Saffran, founder and CEO of The Gathering Place, a nonprofit cancer support center. Small group discussions followed the panel discussion.
The panel impressed Marla Petti, senior consultant at Cornerstone Family Office, LLC in Mayfield Heights.
"I thought they were exciting, inspirational and smart," Petti said.
Jennifer Cohen, senior vice president of leadership development at Ratliff & Taylor in Independence and panel moderator, agreed.
"I thought they were fabulous," Cohen said. "All three of them, I want them to be my best friend now."
The questions they addressed are deep and pervasive: Can working mothers find a balance? How do women find that balance between childcare and professional ambitions? Can women have it all?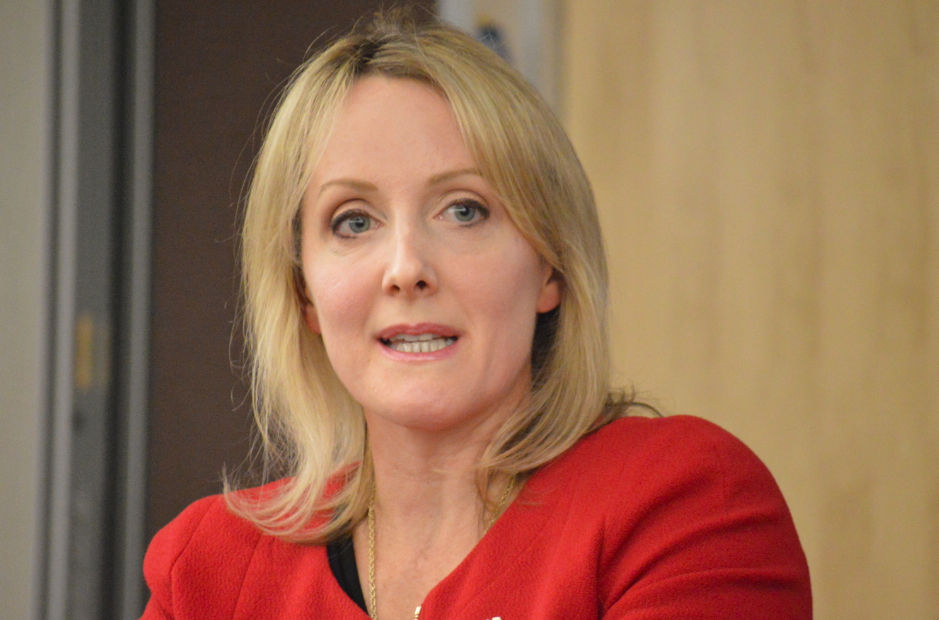 To be clear, these questions are not unique to women, but as Rosman said, they are even harder for women who are still expected by society to be the primary caretakers for their children. She said working mothers are often perceived as selfish, but given the strain put on them, selfish is hardly the right word. She said that while her husband goes to work every day with his mind trained on the challenges of the office, she goes to work thinking about "a whole host of things my husband never thinks about."
So where does that leave the professional woman – with the home, job and kids all on her mind and filling up her plate?
For one, the panelists advised not letting the plate get too full.
Rosman recalled a mentor who told her that life is like a buffet. You want to sample everything – but that doesn't mean you toss all the food in your mouth at once.
That might mean passing up good opportunities. Kogelschatz discussed how she had to learn the "power of no" and turn down entreaties from friends to serve on various committees. Such is life sometimes.
She noted that sometimes women feel sad thinking about what they don't have time for. If they're working a 50-hour week and taking care of the children at night, they likely aren't seeing their friends quite like they used to.
"You can tackle life in stages," Rosman urged.
Rosman said that she has gone years without seeing her friends very much. There are years focused on work, years where she can see her friends more, years where she has more time to work out, and years where she has less. Few working mothers have the time to achieve everything on their wish list. If that means missing out on workouts and gaining a few pounds, Rosman laughingly instructed the audience to "embrace the 10 pounds."
Social media only serves to amplify such insecurities and vulnerabilities, as working women are exposed to pictures of their friends enjoying a "happy hour" or other things they may not have time for. Be wary of such comparisons, Kogelschatz said.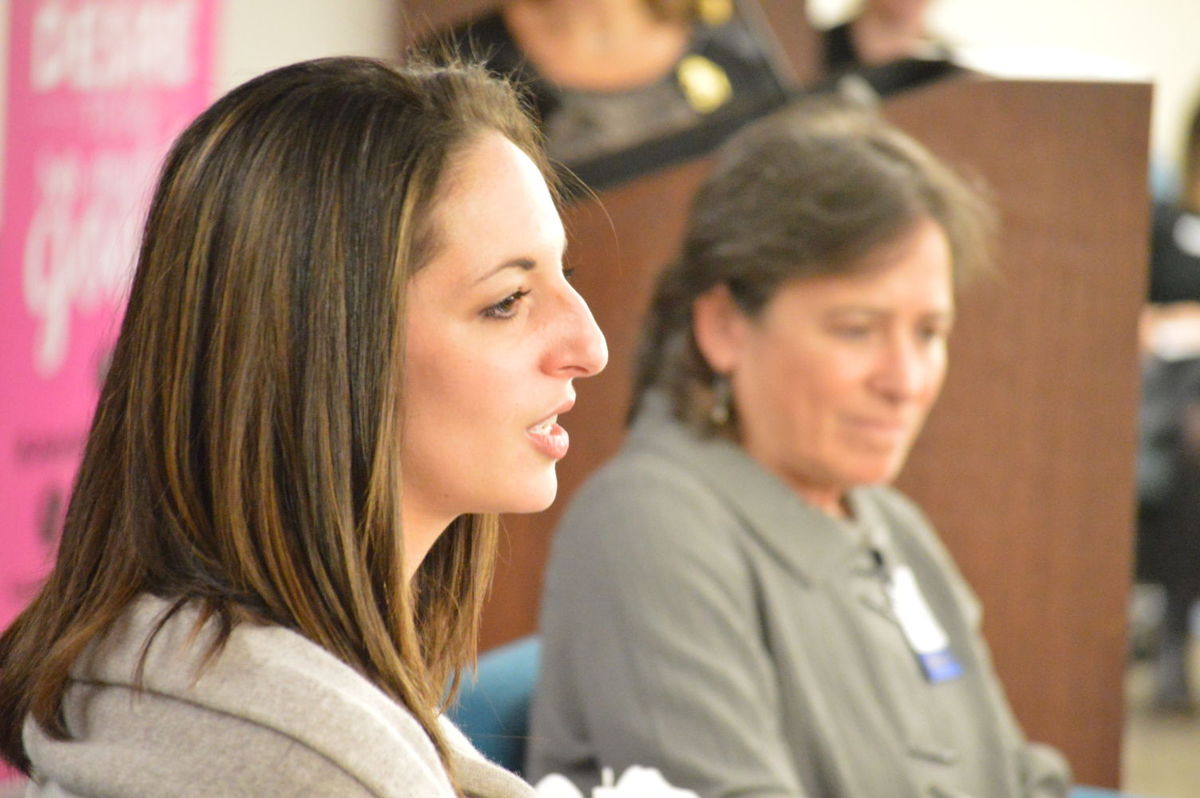 "I don't think you can compare your reality to someone else's highlight reel," Kogelschatz said.
The discussion then was far more than a discussion about how to get ahead in the workplace. It was a discussion on how to flourish in all areas of one's life.
"I'm not sure a balance can exist, but I do believe in harmony." Kogelschatz said.
"I'm not sure what having it all means," Saffran said. "If only we could embrace what we have."
Advice was personal – something you might expect more from a therapist than a mentor. The panelists' tips were as much about living life as succeeding in an office.
For some, Judaism played a key role in finding that balance.
Kogelschatz praised Shabbat and those nice meals at home for centering her family. She also praised the mikvah as "a really great way to restore balance in my life."
Rosman talked about joy derived from candle lighting and 10 minutes of singing.
Saffran said she found peace outside of Judaism, from gratitude, yoga and being a self-proclaimed health nut.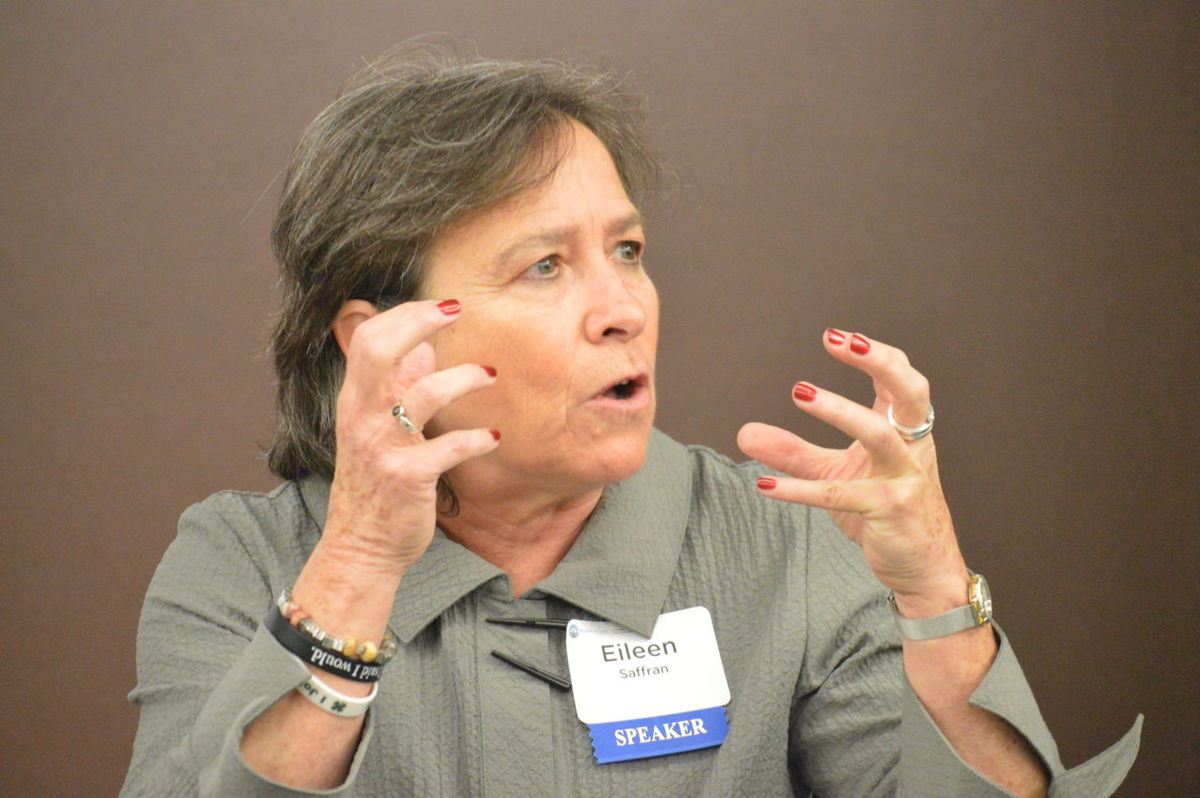 "I have a sense of gratitude that will often times bring me back in balance," Saffran said.
The panel gave personal advice and inspiration through personal stories.
In her opening answer, Rosman shared the deep depression she felt during the 4½ years she stayed home to take care of her children.
"I experienced then the hardest part of my journey because I never thought work was optional," Rosman said. "I felt like my legs had been cut out from under me."
For the driven lawyer, those years were among the most difficult of her life.
"I felt really helpless," Rosman said. "I felt like I had no skills, which was a really depressing place to be."
The women on the panel resembled motivational speakers as they mentioned that their brightest accomplishments often stemmed from their darkest moments.
For Rosman, that was deciding to start a business after 4½ years at home.
"I really believe in the incredible promise and power of women to contribute outside of the home," Rosman said.
For Kogelschatz, that was returning to Cleveland to take care of her mother because "my mom really needed me and that was the most important thing in the world," and using that time as a chance to reflect on what really mattered in her life.
"Every day of my life, I am thankful that I did that," Kogelschatz said. "It crystallized what I really wanted in my life."
When one audience member asked how she could start a business after 15 years outside of the workplace, the panelists responded with enthusiasm: Yes, go do it.
"I thank that life is full of second, third, fourth, fifth and sixth chances," Rosman said. "It's never too late."
---
Related Items