04/22/2015
Honoring Israel's Fallen Soldiers
More than 450 Clevelanders remembered Israel's fallen soldiers and civilian victims of terror at Yom Hazikaron, Israel's Memorial Day. Together in Hebrew and English, we commemorated the 24,000 heroes who sacrificed their lives for the state of Israel.
Colonel Kobi Dostakam, from the Israel Defense Forces (IDF) joined us in mourning. "The heavy death toll that the State of Israel pays as a nation is the heart of our melting pot which enables every Jew, whoever he or she is, to feel that Israel is the eternal home for the Jewish people," he said.
As the evening ended, we sang "Hatikvah," Israel's national anthem that represents the hope of the Jewish people.
Thank you to our hosts, members of the IDF Delegation and all of our guests who joined us for a memorable evening. In tune with recognizing joy in times of sadness and sadness in times of joy, Yom Hazikaron's somber end heralds the beginning of our festive Yom Ha'atzmaut celebration on April 23.
Remarks from an IDF Colonel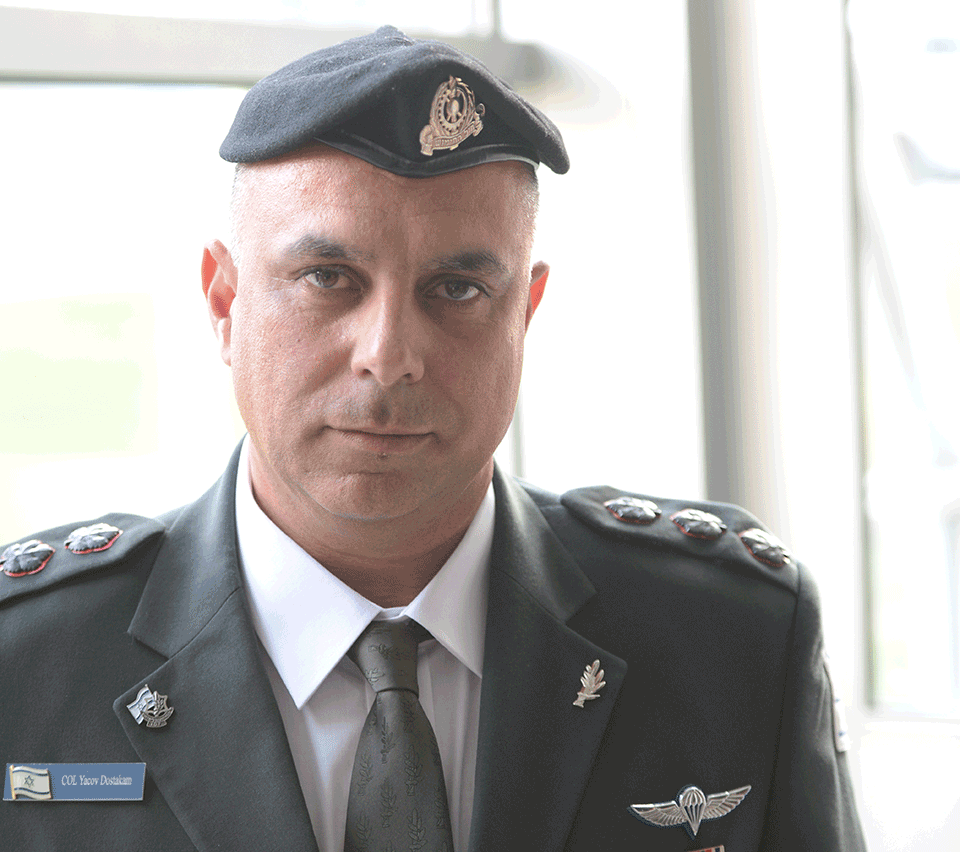 Colonel Kobi Dostakam
To the esteemed members of the Cleveland community and members of the Israeli delegation:
Shalom (Hello). My name is Kobi Dostakam, and I am proud to be a Colonel in the IDF and head of the 2015 IDF delegation to Cleveland. I am married to Marina, have four children and have been serving in the IDF for 26 years. Tonight, we mark Yom Hazikaron, the Day of Remembrance for the Fallen Soldiers of Israel.
Before I begin, I want to take this opportunity to thank the Federation and the Cleveland community for inviting us to be with you at this important time for all of us and for the Federation's support and cooperation over a period of many years.
Some of the best gave up their lives on their journey to the Promised Land, a journey which continues to this day and seems, to our great sorrow, will continue to exact many more lives.
For the family of the fallen, the price they pay is unbearable.
The empty bedroom, the motionless uniform, the longing for his smile when home on leave – these are just some of the crises intruding on the emotional well-being of those left behind, day after day, year after year – as for eternity.
The heavy death toll that the State of Israel pays as a nation is the heart of our melting pot which enables every Jew, whoever he or she is, to feel that Israel is the eternal home for the Jewish people.
Israel's wars, alongside the deep permanent scar, continue to reinforce our awareness of the necessity for a strong army – an army that can be ready and prepared for any troubles caused by individuals, groups or states, an army that is ready to suspend individual Israelis' freedom and, sometimes, to demand untimely death in order to mount defense of the homeland.
The State of Israel has no natural borders, is not surrounded by battlements and is not protected by the sea from those who threaten it.
But on the other hand, we are blessed with great human defenses. Young men and women, at a stage where their contemporaries in other countries are experiencing first love and enjoying university, instead perform compulsory military service in our Jewish army, the Israel Defense Forces.
It remains true to its name – a defense and not an offense army, a moral army and not a corrupt one, an army equipped for battle but not hungry for it.
Tonight, thousands of miles from there, every home in Israel will stand in silence for one minute and remember those who fell in war and tomorrow, will visit the military cemeteries. Language and distance are no limits for our heartbreak, sense of belonging and friendship.
I am sure that we all, you and I, feel that same sense of loss of thousands of young people who gave up their lives for Kiddush Ha'am V'haaretz, sanctifying the people and the land; and that we feel the pain of those who paid a heavy physical and emotional price which they carry with them forever as their lives have changed irrevocably.
We will all stand here tonight, bow our heads and pray silently for the State of Israel.
ה' עוז לעמו ייתן ה' יברך את עמו בשלום – May God give his people strength, may God bless his people with peace.
A few moments captured
---
Related Items: