03/27/2015
A Passover Meal
Kosher Nutritious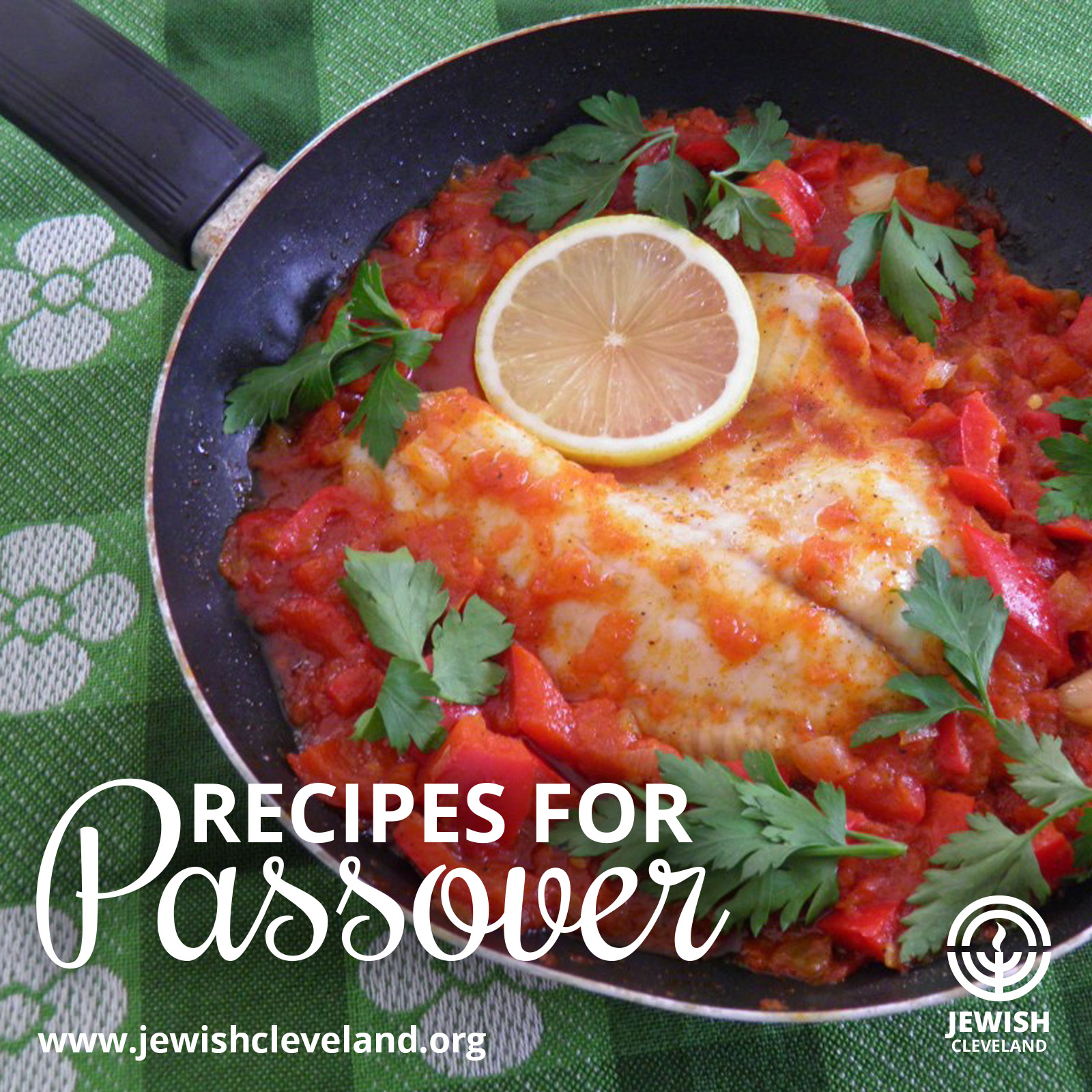 by Caroline Sharvit
Passover is synonymous with cleaning, shopping, and cooking. With all of the physical preparations, however, it's easy to arrive spent and exhausted to the Passover Seder, and lose track of what Passover is really about - the retelling of the miraculous emancipation of our ancestors from Egypt, and the celebration of our transformation from slaves to a self-determining nation of free men and women.
The concept of freedom, while loaded with responsibility, provides us with the opportunity to make choices and changes. In the context of nutrition, we have the freedom to choose the foods we eat and with which we provide our families, which can positively impact our wellness.
We can think of Passover, also known as the Festival of Freedom, as a springboard to practicing good nutrition. It is an opportunity to PASS OVER (pun very much intended!) processed, packaged, and prepared food in favor of fresh, nutritious, and healthy options. Just as our ancestors left Egypt to preserve their spiritual health, we too, can depart from subjugation to sugar, salt, empty calories, preservatives, and additives that threaten our physical health.
The Israelites traveled for 40 years through the desert to reach the Promised Land. Our journey to achieving and maintaining good nutritional habits can be much shorter if we consistently make good decisions about the food we eat. The menu below provides ideas on preparing a healthy, delicious meal for Passover or any day of the year.
During this time of increased anti-Semitism worldwide, I thought it would be nice to develop a meal that symbolizes strength through Jewish unity by choosing foods that represent Jewish communities from around the world. The fish dish is native to Jews of North Africa, while the zucchini soufflé represents American Jewry, and the poached pear dessert traces its origin to European Jewry.
I wish you a wonderful, freedom-filled Passover.
Grandma Ruti's Fish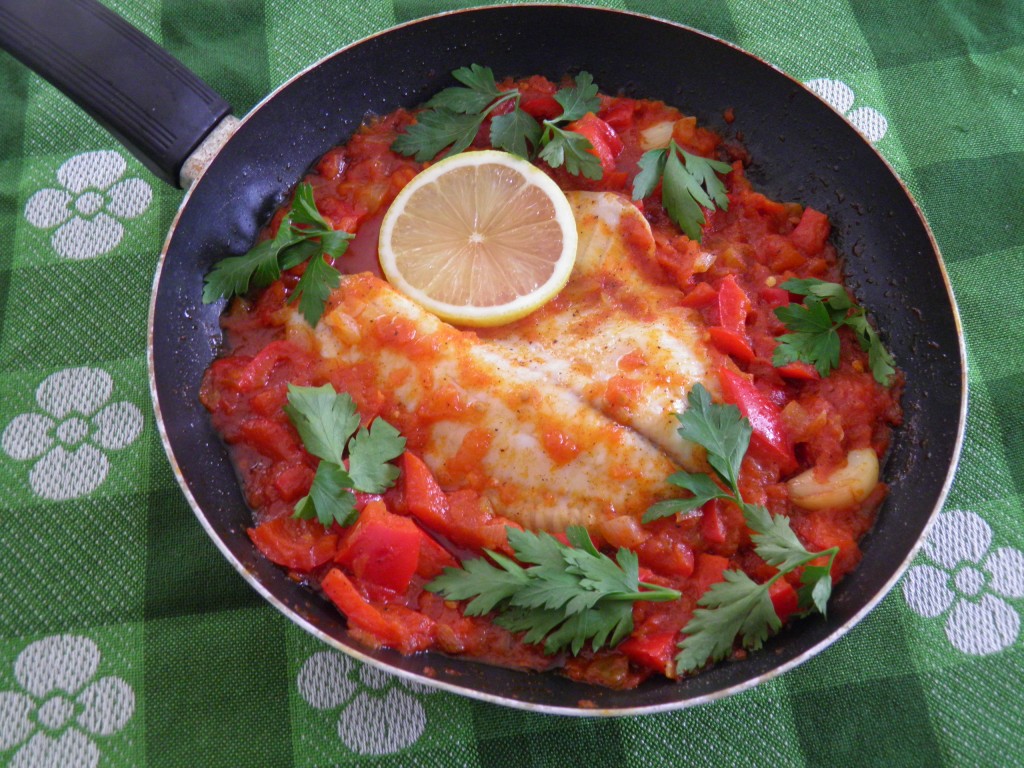 Ingredients:
4 filets of salmon or firm flesh white fish, like sea bass
2 tbsp. olive oil
2 tbsp. paprika
salt to taste
1/3 c. water
1 red pepper, cut into strips
1 lemon, cut into 1/3" slices
pinch of hot red chili (optional)
½ bunch fresh cilantro, finely chopped
4 garlic cloves, peeled
Directions:
Heat olive oil in a pan large and deep enough to hold fish and add paprika and salt.
When spices are heated through and fragrant, add water and mix with a spoon to spread spices evenly through the water.
Place the pepper strips and lemon slices in the pan. Cook for a few minutes until they begin to soften.
Place fish filets on the lemon and pepper and sprinkle with salt.
Add water, if needed so that bottom 1/3 of fish is covered by water.
Bring to a boil and then lower heat to simmer.
Sprinkle each filet with cilantro and add garlic cloves to the pan.
Cook on low until fish is well done and garlic is soft, about 30 minutes.
Not Your Bubbe's Kugel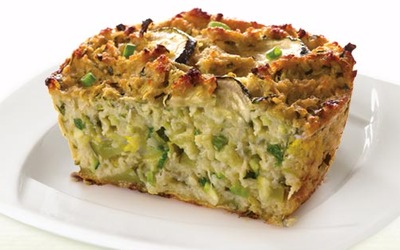 Ingredients:
2 onions, finely diced
4 tbsp. vegetable oil
8 zucchini, grated
1 egg
salt and pepper to taste
Directions:
Preheat oven to 325 and spray an 8" x 5" loaf pan with cooking spray.
Sauté the onions in the oil on medium heat until they are very well cooked and brown. Stir occasionally.
When the onions are cooked, add the grated zucchini and cook until the liquid evaporates. Remove from fire.
Add the egg, salt and pepper and mix well.
Transfer to loaf pan and bake for about 90 minutes until kugel is browned.
Wine Poached Pears Stuffed with Dried Fruit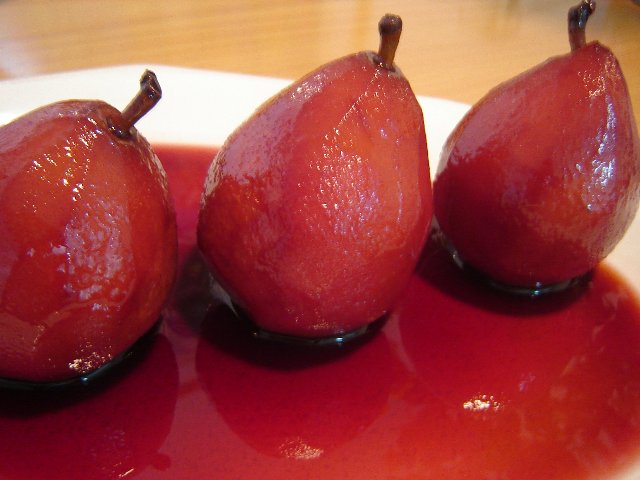 Ingredients:
6 large pears, peeled
2 c. good red wine
12 mint leaves (optional)
Filling:
1/4 c. prunes, pitted and chopped
1/4 c. dried apricots, chopped
1/4 c. walnuts, chopped
1 tbsp. oil
1 tbsp. honey
1 tbsp. cake meal
Directions:
Preheat oven to 350. Wash pears well, and dig a cavity in the pear from the bottom, large enough to be able to stuff with the fruit and nuts.
Mix all the ingredients for the filling and stuff the pears as much as possible.
Cover the bottom part of each pear with aluminum foil and lay them down in an oven-proof pan.
Pour the wine over the pears and bake for about 40 minutes. Spoon some of the wine over each pear about every 15 minutes during cooking.
To serve, plate pears standing upright and spoon some of the cooked wine on each plate. Garnish with 2 mint leaves.
---
Whether the motivation is weight management, athletic performance or disease management, clinical nutritionist Caroline Sharvit helps clients incorporate their food preferences within the framework of a healthy food plan and promotes long term strategies aimed at achieving weight and wellness goals.
Caroline holds a Master's Degree in Clinical Nutrition from New York University, and is a Registered Dietitian Nutritionist and a member of the Academy of Nutrition and Dietetics.
She provides nutrition counseling for children and adults through Tree of Knowledge, an educational services provider in Cleveland, Ohio.