10/25/2015
Federation Surpasses $1 Million Mark
Article reprinted with permission from Cleveland Jewish News.
Federation surpasses $1 million mark again on Super Sunday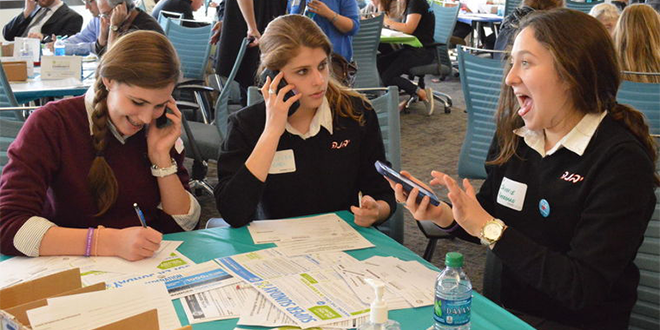 By Ed Wittenberg
The Jewish Federation of Cleveland raised $1,065,621 in support of its 2016 Campaign for Jewish Needs on Super Sunday Oct. 25 at the Federation's Mandel Building in Beachwood.
It marked the fourth straight year the Federation has surpassed the $1 million mark on Super Sunday, which ran from 9 a.m. to 7 p.m. Pledges totaling $1,053,430 were received at last year's event.
More than 800 volunteers made calls and reached 1,553 donors during the 10-hour phone-a-thon, and 354 new gifts were received. Dan Zelman, general campaign chair, said he was very pleased with how the day went.
"We have a very large number of people here (volunteering)," he said about four hours into the event. "There just seems to be a great buzz throughout the room. We've been getting a lot of increases and getting a lot of people who didn't give in the past."
The Campaign for Jewish Needs helps the Jewish and general communities in Greater Cleveland, Israel and 70 countries around the world. Ninety-one cents of each dollar donated goes directly to the community for programs and services.
"We have a phenomenal Jewish community here in town," said Zelman, of Moreland Hills. "The Federation supports all the Jewish agencies we have here in town, along with sending a considerable amount of money overseas to help Jews in need throughout the world. The more we raise, the better we can help people in need, which is what it's all about."
Renee Chelm, Federation board chair, said she was impressed with the "high energy" in the room and "lots of different components of our community all coming together."
"Basically we're not asking for ourselves; we're asking for the community," said Chelm, of Pepper Pike. "This is our family. We're asking people to take care of our family, and what wouldn't you do for your family?
"When you're part of something greater than yourself, the effect is that much greater. We come together as a community, and we take care of each other as a community, good and bad."
Rabbi Ari Spiegler, who was a co-chair of the event for the first time with his wife, Katie, said he and his wife wanted to take part because they recognize the importance of the Federation and "everything it does for all the various Jewish institutions in Cleveland."
"Our goal was to get as many people as we could to come out, not only to give money when they were called, but to really come and volunteer and be part of the process," said Spiegler, who serves as spiritual leader of Beachwood Kehilla.
The other co-chairs of this year's event were Rochie and Jordan Berkowitz of University Heights, Courtney and Rob Fishman of Moreland Hills and Lisa and Phil Linden of Pepper Pike.
Children's activities took place for most of the day. Kosher meals and snacks were available.
The campaign began Sept. 10 and runs through Dec. 16.
KeyBank, Benesch and the Cleveland Jewish News were sponsors of the event.
For more information about the campaign, visit jewishcleveland.org.
---
Related Items