07/15/2015
Meet Mara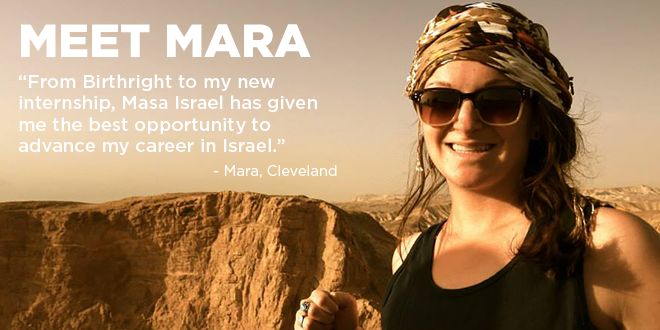 Mara Geller visited Israel for the first time when she was 16. After graduating from high school and continuing her education at the University of Michigan, Mara joined Hillel and went on Birthright with her best friend. One night while on the beach in Tel Aviv, she and her friend promised each other to return one day to live in Tel Aviv.
The next summer, Mara kept her promise and became a participant with Onward Israel Cleveland, where she spent eight weeks living and working in Tel Aviv. Her internship was perfect for her background in public health – she interned for a biomedical startup company. For Mara, this was a true test to see whether she could really develop a meaningful career in Israel.
This fall, Mara will go back to Israel again – this time, for a five month internship with a venture capital startup. She'll be returning to the city she loves, Tel Aviv, and knows this kind of hands-on experience will help her resume shine when she is ready to apply for graduate school and future jobs in her field. Through Masa Israel, a program funded through I-Connect, an initiative of the Jewish Federation of Cleveland, young adults like Mara are able to pick their perfect Israel travel experience.
"From Birthright to Onward Israel to my new internship, Masa Israel has given me the best opportunity to continue my future in Israel."
Want to learn more about Masa Israel? Call us at 216-593-2866 or iconnect@jcfcleve.org.
---
Related Items