04/17/2015
Mifgash (encounter) in Cleveland
israel.cleveland.next (icnext) is a unique two-year program for high school sophomores and juniors that educates Jewish high school students from all denominations on the core issues of Israeli society. Students in icnext cohort 2 learn about Israel, host an Israeli teen in their home for one week, travel to Israel for a unique 10-day summer experience, and lead a project in the community about Israel. Through icnext, students became expert Israel engagers and in order to educate others about Israeli life, culture, and society.
israel.cleveland.next is a project of the Jewish Federation of Cleveland, administered through @Akiva. For more information, visit www.icnext.org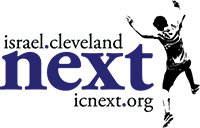 Learning from Each Other in CLE
By Zoe Farkas
Having the Israelis stay with us was a truly incredible experience.
I was lucky enough to be paired with a girl, Inbal, who spoke fluent English. Bringing her to hang out with my friends, giving her a tour around Shaker Heights, and bringing her to school may have been even more interesting for me than it was for her. While she was experiencing a new culture outside of her own, I was provided with an outside perspective on my daily life, which is rare.
Also, what started out as me interviewing her, ended as us having a real conversation about the differences in our day-to-day culture, and I think a conversation like that is beneficial to everyone. People always focus on the similarities of a culture, but I want to focus on the differences.
I know that I have common ground with people, so I want to understand what we don't have in common. That's what makes interacting with different people intriguing and worthwhile.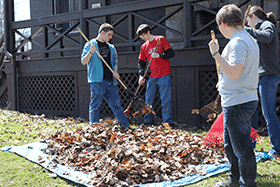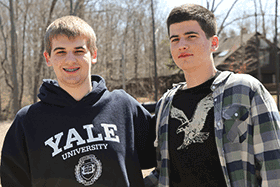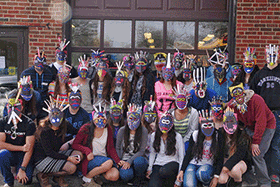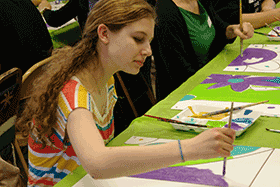 Experiencing Fun, Judaism Together
By Naomi Grant
The Cleveland mifgash (encounter) was without a doubt the best part of my junior year. I loved knowing that after school I would get to see my Akiva friends and this group of Israelis that I loved immediately every day that week.
Our activities included working on a mural we were told would be hung in the Jewish Federation of Cleveland building, going to Putt-Putt and Kalahari, and taking the Israelis to our schools for a day. In addition there was some down time that we made fun, especially on Shabbat when there were no planned activities.
We Americans marveled at how excited the Israelis got over basic things like the filthy piles of snow that were left over in April, and the fact that we actually do use giant yellow school buses, just like in the movies.
In terms of Jewish activities, we attended a bat mitzvah service together and had a group discussion afterwards. The service was one of the main events in the mifgash that showed the Israelis that in America, there is something between secular and orthodox, and most of us doing icnext happen to be that "something."
After the Israelis left, seeing each other at Akiva just wasn't the same, but we all reminded each other we only had nine weeks left until we saw them in The Promised Land.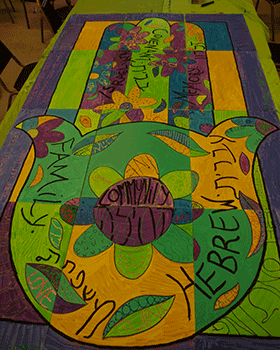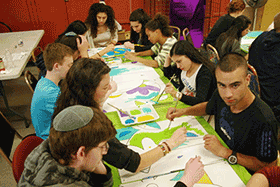 ---
Related Items
Other israel.cleveland.next Articles