10/22/2015
My St. Petersburg Journey
Jewish Clevelander Alexandra is in St. Petersburg, Russia. She is a JDC Entwine volunteer with the American Jewish Joint Distribution Commmitee (JDC), a Federation partner, teaching English and Hebrew to local students participating in a joint YESOD/Jewish Agency camp called TIUL International.
Her experience so far has been surreal, she says. "Having grown up in a vibrant Jewish community such as ours, I am now on the other side, exploring what it is like to be part of a Jewish community that is rediscovering their identity and heritage with the Federation's help."
Follow Alexandra on this journey. To learn more about our programs and opportunities in St. Petersburg, Russia, contact Julie Auerbach at jauerbach@jcfcleve.org or 216-593-2783.
Disclaimer: The postings on this site are Alexandra's and do not necessarily represent the positions, strategies or opinions of the American Jewish Joint Distribution Committee (JDC).
The Start of My Journey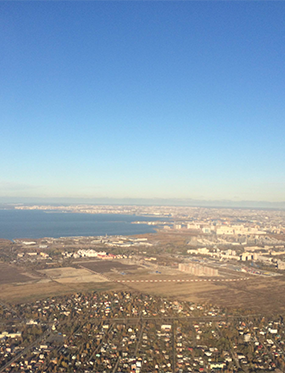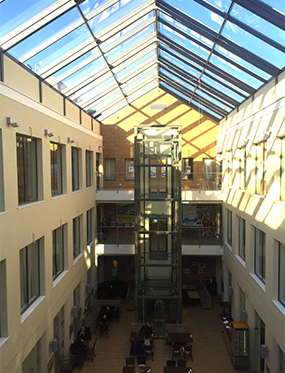 (1) My first view of St. Petersburg, Russia! This photo was taken by my seatmate who was very excited to point out to me precisely where she lived. I have to say it was a very welcome sight for me as well, especially after over 24 hours of traveling from Cleveland and all the various layovers along the way. Mostly, I was just very excited to get to work alongside our partner community in St. Petersburg!
(2) The inside of the beautiful YESOD building, which is the local equivalent to the Mandel JCC. The fundraising achieved by our Cleveland Jewish community was largely responsible for pulling together the funds needed to build this local hub of Jewish life. However, it differs from the American counterpart in one big way: each floor houses different organizations to aid the Jewish community, ranging from a nursery school to elderly care and welfare. Yet, they all share a common knowledge of Cleveland and our efforts on their behalf.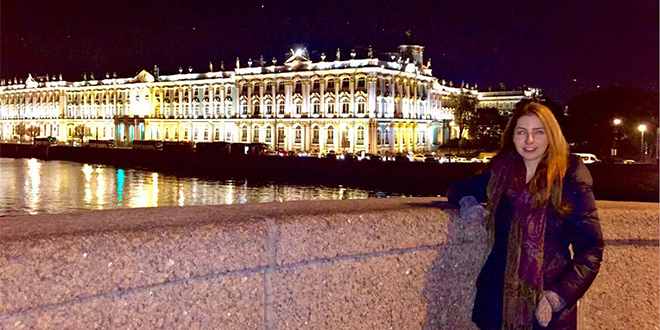 (3) In the brief time I've been here, the vast majority of my work has taken place in an office within YESOD. Alongside another JDC fellow we've been tasked with creating an English course-book to help teach local Jewish children in a language camp this November. In the meantime I've been taking in the sites of this beautiful city such as night-time strolls past stunning buildings including the Hermitage Museum, once the massive palace of Catherine the Great.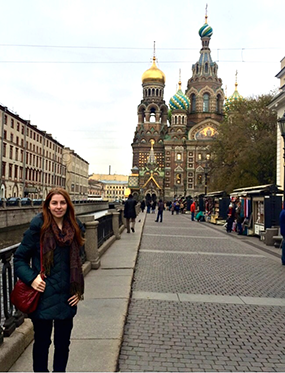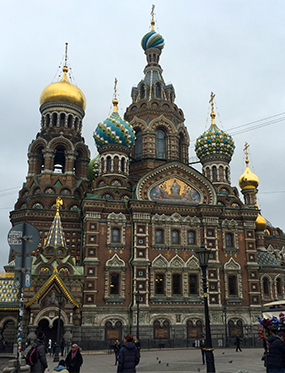 (4, 5) One of the most incredible sights in St. Petersburg! The Church of the Savior on Spilled Blood is a memorial built to honor Tsar Alexander II after his assassination. Alexander was known as a great reformer, who eased persecution of the Jews and had policies that encouraged assimilation, although still many problems endured during and after his legacy. Regardless, this monument to his life remains a must see sight!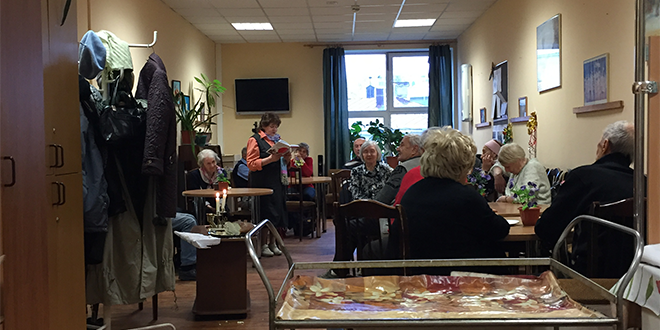 (6) My first interaction with the larger St. Petersburg Jewish community. I participated in a Shabbat held for elderly members of the community on a weekly basis; it is organized by Hesed Abraham, a welfare agent. It was a welcoming atmosphere, even for someone like me who doesn't speak the language. I look forward in the coming weeks to participate more in this amazing Jewish community!
Getting to know St. Petersburg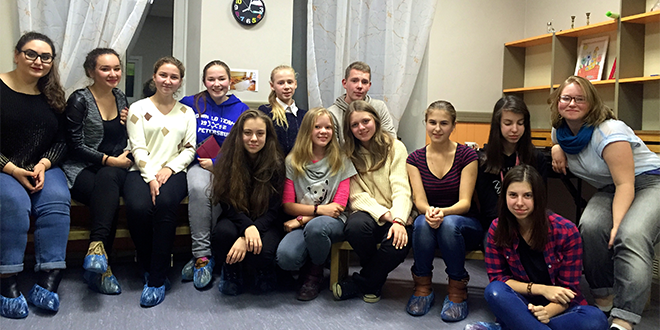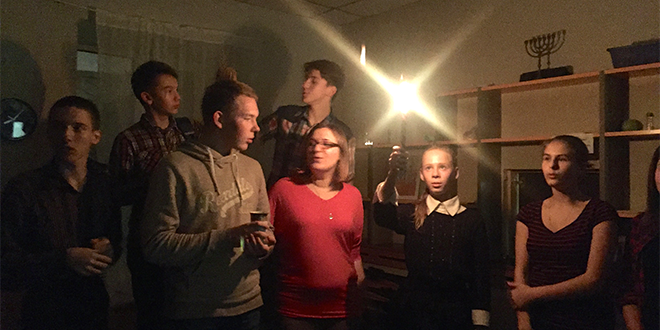 (1, 2) Members of the Adain Lo club & Havdalah: My adventure with the Jewish community of St. Petersburg continued Saturday night when I attended a meeting and Havdalah celebration with Adain Lo, a Jewish teenage club here in the city. We began by discussing the differences and similarities between our two countries and our respective Jewish identities. The conversation was held purely in English for my benefit and much to the credit of these kids, ages 13 through 18, who all had phenomenal language skills. One of the youngest, a girl named Galina, was particularly enthusiastic since her sister is a current resident of Washington, D.C. She shared her hopes to visit her sister soon in America. Regardless of whether or not they had any future travel plans, all the kids shared an enthusiasm for learning and connecting with the Jewish community abroad. It even extended into the world of selfies, several of which I was asked to pose for with the kids and I'm sure are floating around the internet somewhere!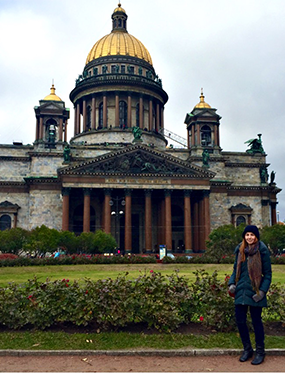 (3, 4) Veronika and I at Catherine Palace in Pushkin and St. Isaak's Cathedral: On Sunday, my fellow JDC companion and I traveled to the city of Pushkin to attend the fourth and final day of the Lehava leadership program to discuss volunteer work. The Lehava group consists of young adults who want to give back to their community and I was very excited to learn that several of the members I met will be traveling to Cleveland to continue their work. It was a special moment when I realized that not only was I getting to be a guest in their world but before long my home community will be welcoming them. We were taken to the conference by a woman named Veronika Belousova who is the Deputy Director for Community Development at JDC. Before returning with us to St. Petersburg she gave us a tour of the beautiful town of Pushkin and its centerpiece, the Catherine Palace. Veronika described it as the most stunning of all the palaces, famed for its legendary amber room. I may not be an expert when it comes to palaces, but in this case I'd have to agree. I could not imagine a more incredible sight.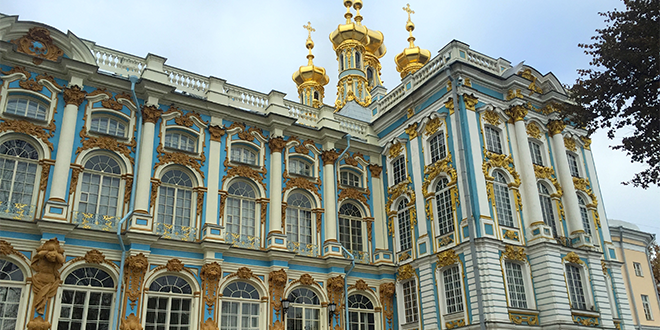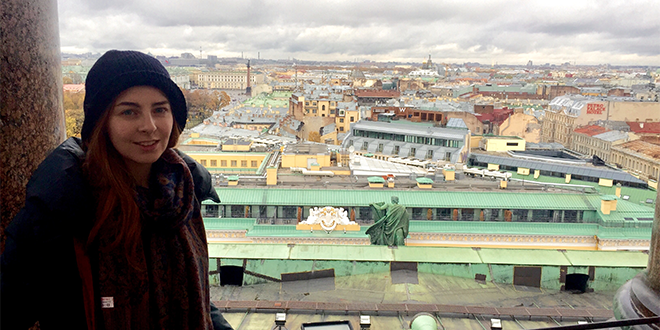 (5, 6) At Catherine Palace in Pushkin: On Monday, I had a free day to prepare for the upcoming week, which is to be filled with being introduced to more organizations and finalizing preparations for the language camp that brought me here. I chose to think about it from atop the colonnade of St. Isaac's Cathedral, the second highest building in St. Petersburg that has spectacular views of the entire city below.
What St. Petersburg Means To Me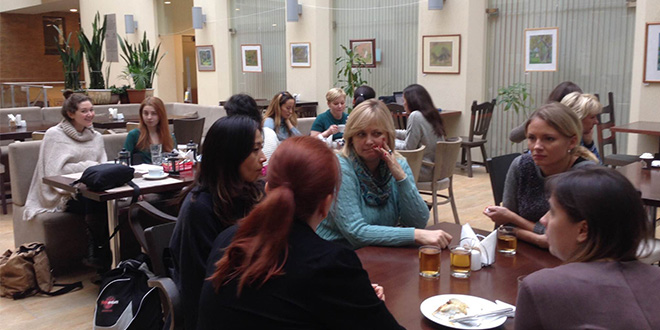 (1) As incredible as the beginning of my journey in St. Petersburg had been, the second half was even more special. I was now much more involved with the different branches of the local Jewish community.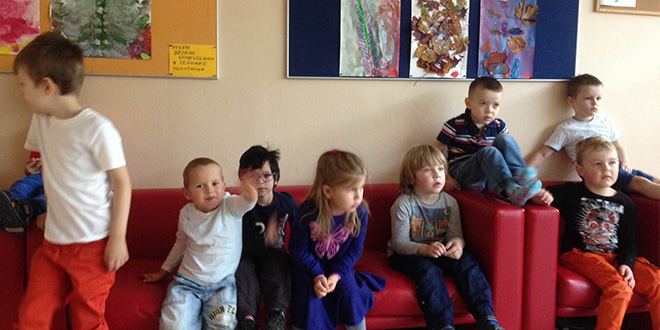 (2) My second Shabbat began with the addition of the Jewish Federation of Cleveland's own Julie Auerbach, who led English and Hebrew songs on her guitar to a room of very excitable preschoolers. I, alongside my JDC co-fellow, did our best to keep up with the singing and dancing of so many youngsters.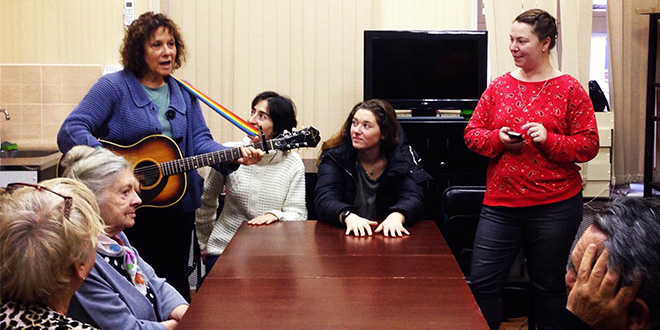 On Saturday morning, I was introduced to a second branch of the Jewish teenagers club. This one was less focused on English but we quickly discovered similarities between ourselves through arts, charades, and a little translator help! That evening I also attended a Shabbat activity and celebration for the mentally challenged at YESOD, where we drew pictures of our week and the places we were from.
(3) Another highlight of my second Shabbat weekend in St. Petersburg was going to Eva Welfare Center, which is a welfare agency along with Hesed Abraham, for elderly members of the Jewish community. There, Julie, my co-fellow, and I met with very active and enthusiastic members of the community to connect and sing songs together.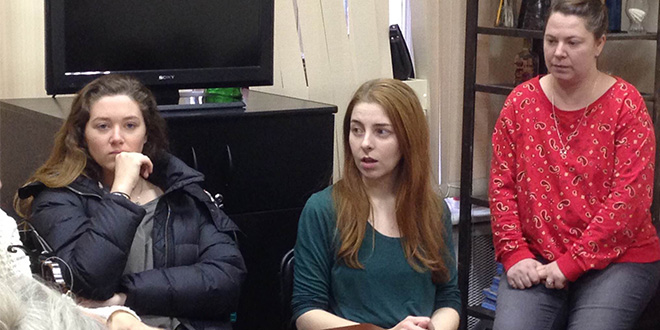 (4) They were all survivors of the infamous siege of Leningrad during World War II, and they shared with us their perspective on events past and present. Some of those views matched our own while others surprised us. Yet we all came together and celebrated Shabbat as a shared memory we were forging between our respective communities.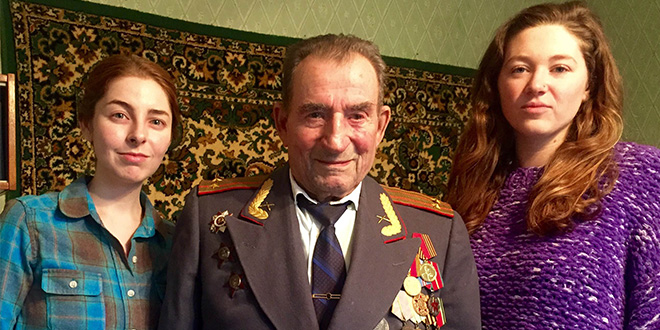 (5) Earlier in the week I made another memory that touched me personally. I met with a kind and exuberant Jewish WWII vet named Ruvim Kutz at his home in the outskirts of the city. His generosity in sharing his home and life story is something that I will always remember.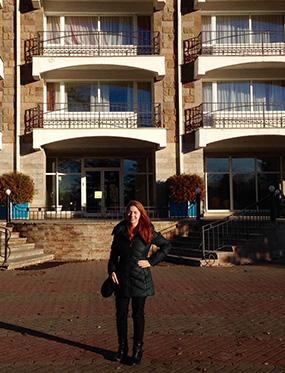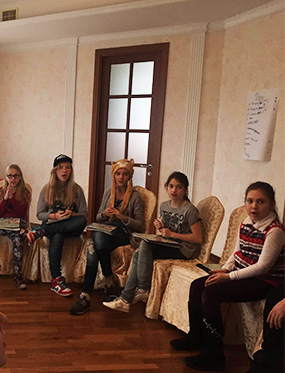 (6, 7) After such a busy Shabbat weekend it was time to bid St. Petersburg farewell and leave for the nearby town of Pushkin, where the YESOD camp for kids is located. My JDC co-fellow and I were going to teach English and host Jewish educational programs with the entire staff.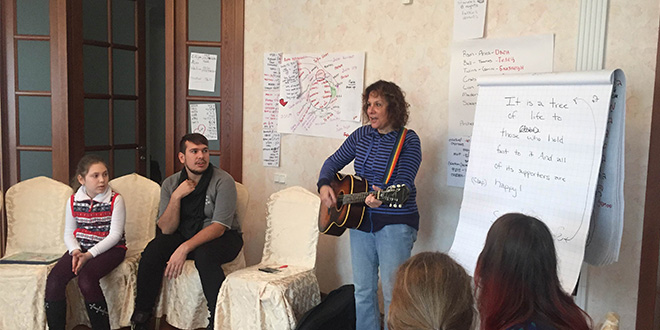 (8) Campers and staff alike arrived on Monday morning where we quickly divided into groups and got to know each other. My group was nicknamed Maccabee, in honor of the holiday of Hanukkah. Our campers, ages 8-11, quickly impressed me with their thirst for knowledge and standout language skills. They were also some of the kindest, most dedicated students I've had the pleasure of working with...of course, that's when they weren't running wildly down the halls between classes!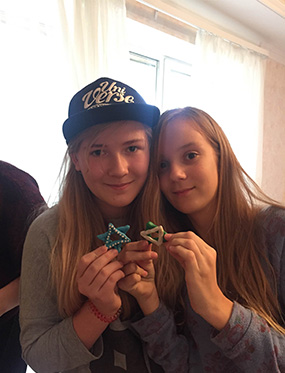 (9,10) Our daily routine was: morning swim, breakfast, English lesson, electives, lunch, outdoor play, Hebrew lesson, dinner, and evening event. In addition to teaching English, I was in charge of the games and crafts elective, which turned out to be a ton of fun and included everyone, from our youngest campers to our oldest. Because our week-long camp was themed around Jewish festivals, each day we explored a new Jewish festival and did activities and lessons around this theme.
Day 1 was themed for the Jewish calendar and designed as a gateway for the rest of the week. Our evening activity was "Around the World with Zodiac signs," during which students went to stations designated by each of the 12 signs and completed activities at each station to earn stickers they needed to end the evening.
Day 2 was a Hanukkah celebration. I discovered that while some of the kids in my group understood a great deal about the holiday, others by contrast knew very little. It was a challenge to figure out who knew what and to make sure every child walked away with some knowledge of what the holiday was so that they could begin thinking about what it meant to them and their families.
That evening we played a detective game. Students heard two heroes, Hermione Granger and Dino the Dragon, and one villain, Cruella De Vil (fabulously played by Cleveland's own Julie) provide answers to Chanukah-related questions. The students then debated the answers in groups before voting for which character had the correct answer. The evening turned out to be a big hit with the kids!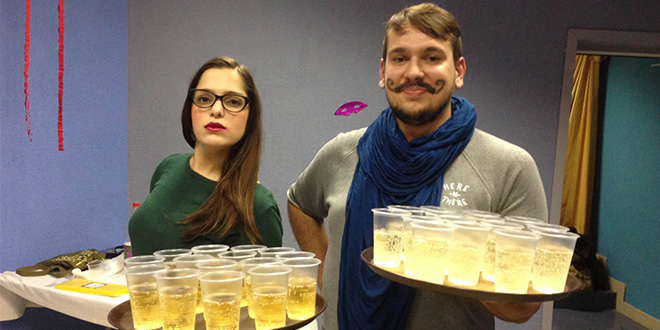 (11) Day 3 was Tu B'Av. This was a lesser known holiday to the kids, but after some initial shyness, they started to get very involved in discussing its meaning in our group. The evening event for this festival was a grand ball where boys and girls would get separate etiquette lessons for interacting with the other gender as well as bow ties and mustaches for the guys and makeup and craft jewelry for the girls. Then we all came together for a disco, which included kid-friendly champagne, a love letter writing station, lots of dancing, and finally the American animated movie, Anastasia, to cap off an appropriately festive night.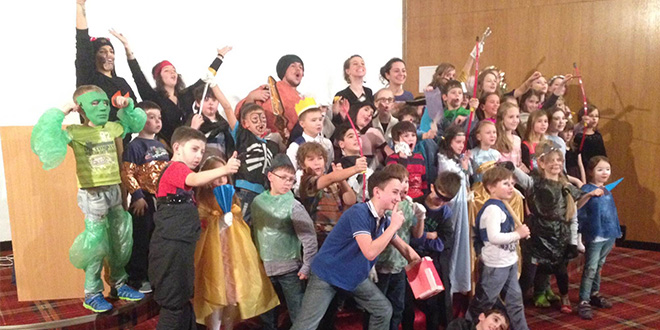 (12) Day 4 celebrated the festival of Purim. This was a fun day befitting the holiday right from the start. It also had an element of secrecy to it because we wanted to surprise the kids with the night's event.
The staff put on a costume show where six of us took on roles from the Purim story and acted out our characters. We cast for King Ahasuerus, Queen Esther, Haman, Mordecai, Vashti, and more. I played Esther and had a blast dressing up with my fellow staff members, who put together some creative costumes, including a Haman whose robes and turban were stylishly composed of bed sheets. After our character introductions, the kids each selected the person they wanted to emulate by taking on similar characters of their own. Afterwards we met in our new groups. Esther's girls were dubbed "Team Princess" due to the overwhelming desire among the girls to be every single Disney princess all at once.
After introducing each member of our team to the rest of the camp and meeting everyone else's characters, we proceeded to another disco. There, staff and campers, alike danced until we were all ready to pass out. However, once the kids were asleep the staff celebrated our last night together and a successful and exhausting week!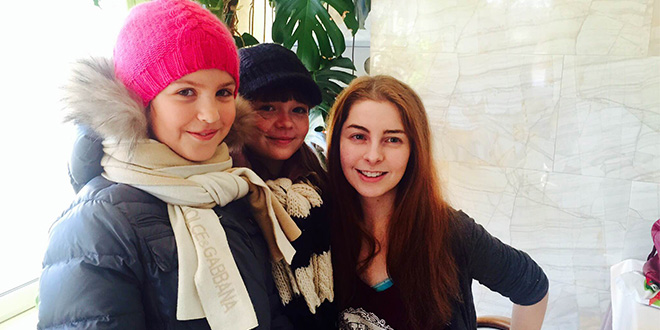 (13) Our 5th and final day taught the students about Tu B'Shvat. This was the last day for most of our students, so it was a bittersweet experience. However, it was also very fitting as we talked about cycles in nature and our responsibility to the world around us, all while the students reflected on returning to school and their new-found connections to their Jewish heritage.
It was very moving at the end of the day when several of the kids would approach me and ask for my advice on little things, such as which Star of David image they should use as the cell phone backdrop or looking up videos about life in Israel. It was incredible! The kind of impact we could have in such a brief time, especially considering all of my students told me how much they were looking forward to the spring session of camp and hoped to see me there!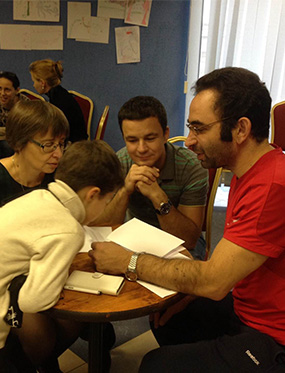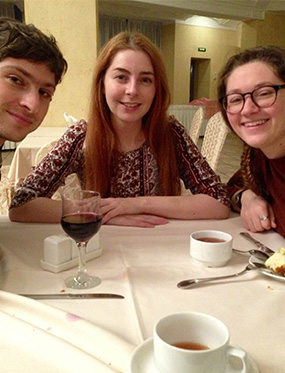 (14,15) However, there was no time to wallow over the end of lessons because within the hour the remaining staff was preparing to welcome the families of students staying for the weekend Shabbaton! This was a special undertaking because it allowed the students to not only have the opportunity to share with their parents what they had learned, but in many cases even teach them something new in the process!
We began with songs and the traditional Shabbat blessings over wine and challah. We also incorporated the beautiful tradition of having parents utter a unique blessing to their children. It was touching to witness all the families united together. It was also cute to witness one of my students, Victoria, get smothered with kisses by her mother as she tried to hold back her giggles.
Afterwards, we had a delicious and traditional Russian meal and had the pleasure of meeting a Russian counselor who had visited the Cleveland camps back in 2008, including our very own Camp Wise, of which I am an alum!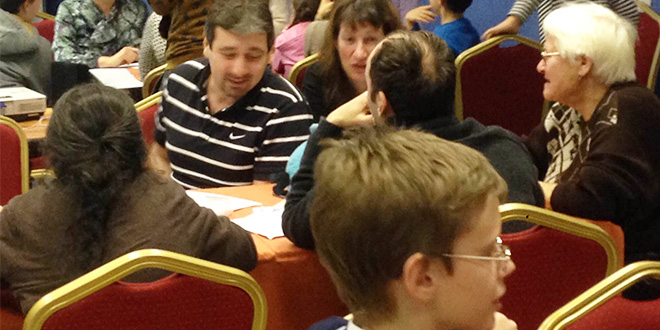 (16) The next day we had many group family activities that were both educational and joyful as we saw families creating new Shabbat memories together. The parents also had the option of attending some lectures given by local speakers on Jewish identity while my co-fellow and I entertained the children. I heard the lectures were incredible, but I would not have traded in that extra time with the kids for anything.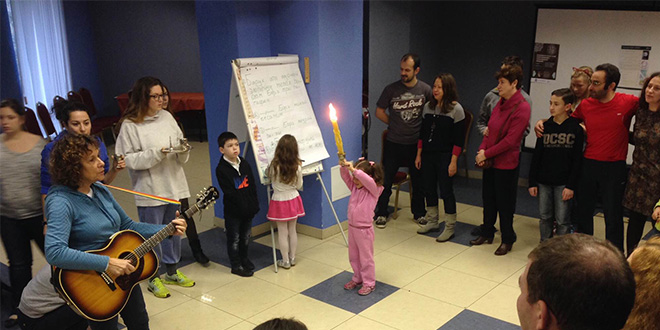 (17) They took it upon themselves during this time to continue practicing the value of Jewish philanthropy they had learned by giving me my first Russian lesson! My former students claimed it was not good that I didn't speak the language and they had to help me out, just as we had flown from Cleveland to Russia to help them!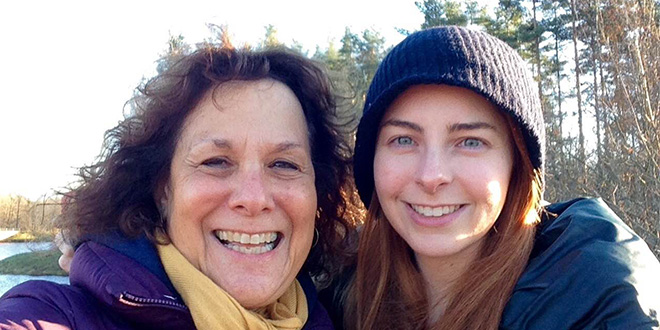 (18) Our amazing Shabbaton ended Sunday afternoon after a Havdalah service and final lunch together. As the families left from their weekend adventure, I couldn't help but reflect what an incredible experience this journey has been for me. I have always been interested in the Russian Jewish community since my own paternal grandparents, whom I never had the chance to meet, were both part of it. I've also become increasingly interested in exploring Jewish heritage. I never quite realized growing up how lucky I was to be a part of such a community, especially the one we have in Cleveland, until I moved away. Only then, and after programs such as Birthright and volunteering opportunities such as the JDC's Entwine, did I begin to truly appreciate my heritage. This experience of traveling to Russia with the JDC, an organization I have the deepest admiration for, really united those two themes in my life.
I am grateful for the opportunity to help a new generation abroad discover what it means to be Jewish in a way that reflected my own understanding of it and realize our incredible global family. I loved witnessing the kids and their families in St. Petersburg being brought closer together as they were embraced by not only their local community but their Jewish brethren abroad, and especially in Cleveland!
Learn more about our sister city of St. Petersburg, Russia and how you can get involved.
---
Related Items