07/21/2016
Nathan's Onward Israel Experience
Meet Nathan. He's been to Israel before, but he's ready to go back again – this time, for the entire summer! Nathan is a participant with Onward Israel Cleveland, an 8-week program where students ages 20-25 live and intern in Tel Aviv. Follow Nathan's journey on this blog, and to learn more about all Israel opportunities, visit our I-Connect Page.
June 7
I am afraid of three things, well; three things bother me. They are clearly on this earth for one reason or another. They include; clowns, needles, and flying.
My mother said I was a good passenger when I was younger. When I got older, I started to get more nervous, however; this is the first flight I am actually excited for. I assume it is because of positive anticipation. I am looking forward to getting involved and immersing myself in the Israeli workforce.
My name is Nathan (Nate) Lapin. I graduated with a Communication Studies major and an Education minor from The College of Wooster in 2015. During the year, I am a substitute teacher for multiple districts around the Greater Cleveland area, and I recently finished a long-term substitute gym teacher position at Gross Schechter Day School.
I wanted to put my major to good use this summer, so I accepted a position at a start-up called OneDay Social Volunteering as a Public Relations manager. A couple objectives include promoting the company as well as calling citizens in Israel who want to volunteer. I will have to place them in aspects of society they would like to volunteer, including special needs, environment, the elderly, fighting hunger, etc. Then, I will go out and volunteer with those same individuals. I cannot wait to meet everyone at the firm and in my Onward Israel Cleveland program. I expect this to be an eye-opening experience, as well as an opportunity for personal growth as I immerse myself in the global working society.
June 8
We arrived. We then got a shuttle driver to Jerusalem for orientation of all the other Onward groups from Baltimore, Pittsburgh, Arts, and Hillel. Ben, Matt, Zeke, Austin, and I walked a bit outside. We then came back and met Or and Michal, our madrichim (supervisors). They seem really cool. I then went out that night with two of my Israeli friends from Birthright in Jerusalem. I hopped on the train and navigated my way to meet them. It was nice to catch up.
June 9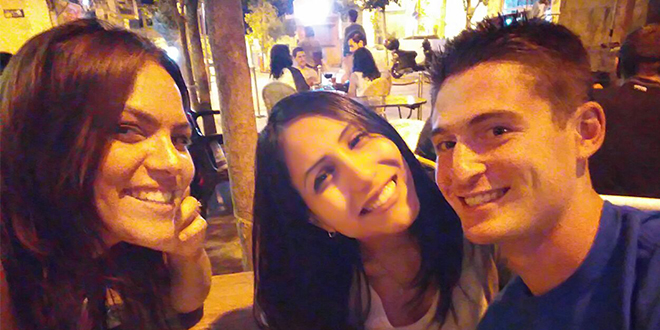 We woke up and had a delicious breakfast. It included hummos, Israeli salad, eggs, tuna, all the veggies, and an apple. I could get used to this, but I can make it myself when I am on my own in the apartment. I am a bit nervous because I am living in a foreign country on my own for two months.
We then went on a hike and did a few teambuilding activities. The landscape was beautiful, and I took my time. We then arrived in Tel Aviv a few hours later. Our apartments are super nice. My roommate is Lee, and my other housemates in the apartment are Haley, Lily, and Sammie. We get along very well and we plan on making dinner tomorrow when we grow grocery shopping.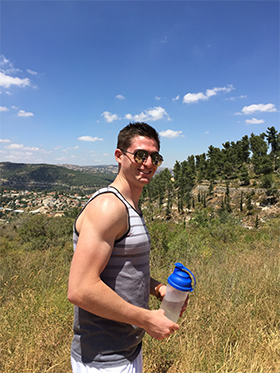 June 10
It's Shabbat! We got falafel at the shuk (marketplace)! It was wonderful because everyone was nice even when it was packed. I have been trying to converse with the locals, so that could be why. Then we picked up the groceries and cooked eggplant parmesan as well as pasta. We also had pita with hummos and cut up some peppers.
June 11
Shabbat in Tel Aviv is different than Shabbat in Jerusalem. People are still active and going places, but most businesses are closed. We went to the beach. We got in the water as well as learned how to play volleyball. Israelis are very inclusive when it comes to the beach, always wanting to play and always wanting more people to play.
As for the water, it was something I had never seen before. It was beautiful, and I realized that this could be every day. In Cleveland, we would make a day trip to the beach. People in Tel Aviv go every day. This is what paradise appears like to me. I am living a dream.
June 12
I went for a run and the GPS in my phone took me to Rabin Square. This is probably my favorite place in Israel, because Yitzhak Rabin was an Israeli Prime Minister who fought for the good of the people. His assassination tells us that if we have a strong, united, common national Jewish identity, we will not be stopped short of success. If we are divided, the country will fall.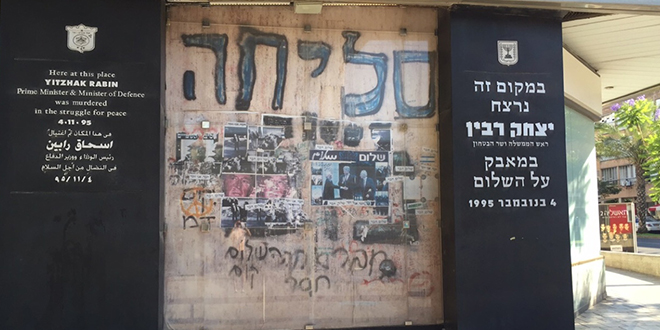 I then went to a picnic to celebrate Shavuot with my whole Onward group. We wore white. It was nice to celebrate the holiday in Israel because it is a tradition that one can be a part of and it seems that one can share that passion of the holiday with the locals. I am thankful to be a part of it.
I then prepared for my internship. I picked out my outfit: a white polo with my jean shorts. Israelis dress casually, probably because of the weather. At my job in Cleveland, I usually go with a suit and tie. This will be a massive change.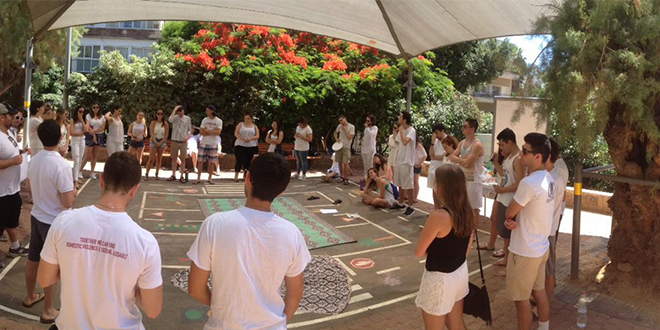 June 13
The first day of my internship I met the team at a coffee shop at Habima Square. There is my boss, along with several others on the executive team. There are two other interns, Mara and Cody, who are in charge of the social media aspect of the firm. I feel that based off this meeting, a good amount of volunteering organizations use social media as their primary outlet to obtain volunteers for their programs. They have many events around the Tel Aviv area, including planning yard games for Kindergartners at recess, taking special needs children to a theatre, and a beach cleanup, to name a few.
There were also a few questions asked of the social media platform here at Onward, including: How many team members were there in each city? How do we build a team based on the success of past events? What are strategies of a volunteer team of good quality? What is a base we can build off of? There is semi-annual report that comes out with statistics of the number of events per month as well as how many participants per month. There is also a huge list of events that took place during the year, where they were held (mostly Tel Aviv, a few in Beer Sheva), when they are held, and how many people volunteer for the events. A future goal or objective is to look at the success in the second branch of Beer Sheva (modeled after Tel Aviv) and see if they can model the strategy of OneDay Social Volunteering in other cities, such as Jerusalem or Haifa.
As for challenges and goals, a challenge in media is that there is so much going on in media, so it is difficult to narrow down what specific media tools to use in order to be successful. Our team will have to figure out what the best tools are. We also need to look at how sustainability is involved, as well as how do we add volunteering, fun, and practicality. One way is we must have our heart in the right place as volunteers, not just use it as something to put on our résumé. When we are driven, we achieve more, that is why I have set some goals for myself, but not in any order; my first goal is to have an increase in volunteers and the quality of them as well at each event. My second goal is to develop a routine in a foreign work system, and know when to ask for help. I do not know everything here, so eventually I will have to ask for help. My Hebrew is getting better, so that is a silver lining.
June 14
Public Relations Meeting: This meeting was for me! We met in a library on Mazeh 9. Onward has a specific system to it, which I will learn as I progress in my internship. The objective of OneDay Social Volunteering is to strengthen the community as well as the bond between volunteers. We target young people usually 18-35 years of age. The reason behind targeting this age is to show young people to volunteer in the future, especially when they get out of the IDF, and even while they are in the IDF. One of my coworkers is in the IDF. When I met with another coworker today, she told me social media is the primary way of volunteer recruitment, which confirmed my hypothesis from yesterday regarding social media and volunteering. What they would like are pictures after the event with an explanation of what will happen next after volunteer. In America, when one volunteers, they go, they do their good deed, and then they leave.
Sasha, my coworker on my PR branch, discussed with me the branches they started up and what made them successful and unsuccessful. Tel Aviv and Beer Sheva are successful because they have a young population, including a good amount of students and IDF soldiers looking to volunteer. Jerusalem is strict when it comes to volunteers. They stated that volunteers could only help if they are from their own region. In my opinion, this defeats the purpose of volunteering.
The guidebook for how to start a OneDay branch anywhere in the world is what I will be working on. It will include: how to open a branch, how a branch will be strategically run, the outcome of the goals of the program, and the expectations, which will all add up to the guidebook being the manual of success. We can spread these programs through outside influence, including delegations such as Birthright or Onward, because if a tourist or a non-local participates in a program or activity and really likes it, he or she can take something from this back to their home and start something of their own; and they will have a guidebook written by me to do it.
OneDay Volunteering Programs involve volunteering for the first half, then for the second half getting together for dinner or for drinks. This is the concept of social volunteering. We need companies like these to make sure volunteering continues wherever they go. Volunteering does not end; it must keep going. The world needs a hero, and the hero needs a driven heart to drive the world.
June 15
I'm on the bus, and I sit next to three Arabic girls. This girl says "shalom," so I say it back. I then ask "ata metaber anglit?" (Do you speak English?) And she shook her head. I'm still learning, but I put my aviators on and looked away. The two other girls with her looked at me funny. One was on the phone and said something that upset the one who said hello to me. That girl gave the girl on the phone a Charlie Horse and I was shocked. One in a burka started to laugh, then the two girls started laughing, and finally, I could not take it anymore and burst out laughing on the bus. I looked around and everyone was smiling. I did not have to understand the language to know that something was funny. Laughter is a universal language that everyone can enjoy.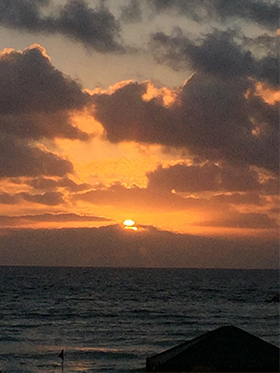 When I got to work, we discussed the organizational culture and the semantics of the firm's mission statement and objectives. We also conversed about easy ways to communicate between senior staff, organizers of the program that day, and volunteers, which is where the guidebook would come in with a chapter of how to manage a program.
We were also introduced to the CEO's strategy, which is an interconnecting system of people we can call to volunteer, spread awareness of the firm, and strengthen the bond. I really felt like I was a part of a solid team and I felt so comfortable speaking my mind and portraying my ideas. I definitely feel that I am fitting into the workforce here and I know I will make a difference here in Israel, come back to America, make a difference there, and then make a difference in the world. As I said yesterday, heroes need driven hearts to drive the world, and I have one of them, and I plan on using it for the best of the community.
June 19
I am at a meeting in a coffee shop at Ramat Aviv Mall. We have determined that we will have whole group meetings Sundays and Thursdays. Tuesdays we will be in our branches; PR, Business, and New Media. I am in the PR. I am ready to get started on the guidebook. I feel that we need a rationale in there along with the mission statement, because the rationale will justify our mission statement; which will then justify the goal of our program. I created a basic outline of what the guidebook will look like and pitched it to my boss, just summarizing it, and he said that is good. He also said that it is okay to wade into it slowly because more interns will be coming to help out, so that is good. I posted our event of the Tel Aviv Beach Clean Up on the Facebook group. My boss messaged me saying all of the interns' coordinators for Onward will be in attendance! I am super excited to see this through.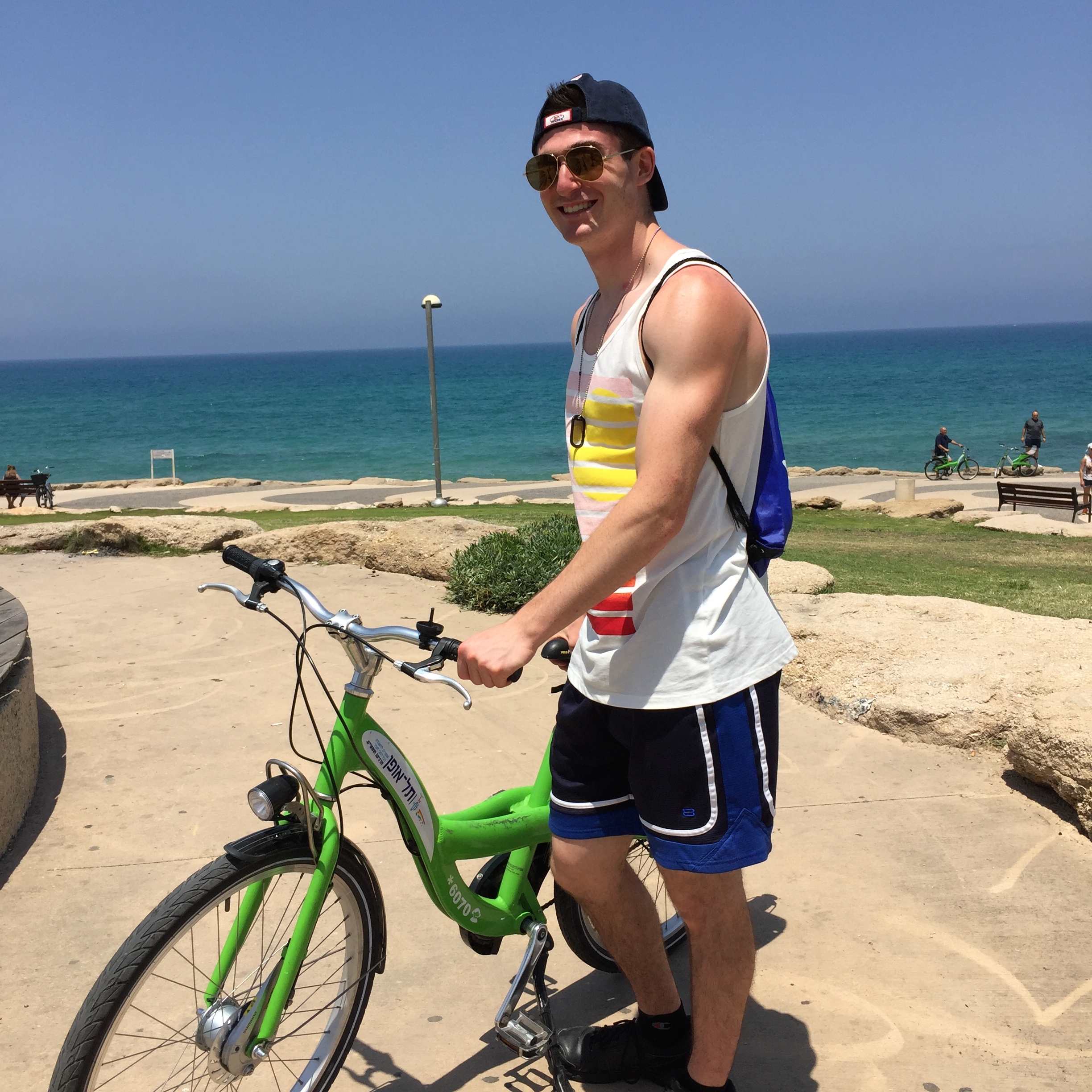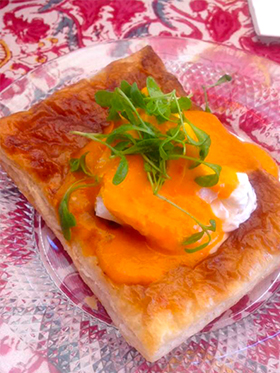 June 20
I met my PR team at one of my coworkers' apartments in Ramat Gan. The room is nice and the view is spectacular. I could not get over it. We discussed what goes into a PR kit as well as coming up with different slogans. One slogan we came up with was "You decide, give one day." Our firm wants to stress the importance of choice in volunteering. One must choose to volunteer their time and actually want to make a difference. I hope our whole team likes it tomorrow.
We then had our break-out seminar activity, where we went to the Holon Children's Museum, and went through an exhibit where were simulating a blind individual's experience. Our guide helped us move along and we had to use our other senses to get by, such as following the voice, feeling around, and even smelling, It provided some serious perspective on what the blind go through on a daily basis. I felt bad, but at the same time, after talking to our guide, I realized how much he enjoys life because he works with what he has and desires to push forward. It is incredible how people overcome their disadvantages the way they do, because I can only imagine what I would do without one of my senses. I asked him what advice he could give to someone going blind, and he stated one must have a strong mentality and believe in yourself. This was a very powerful message, from a person with a powerful outlook.
June 21
I helped come up with a hashtag for the new media branch: #onedayoneworld. They were putting things together for media outreach and it just popped into my head. We then met with our branches and simply went over what we discussed in our own separate teams the day before. It was quite hot out, so I am realizing I must have cold foods, such as smoothies, iced coffees, and at times ice cream. I do not really eat sweets, but to survive in this heat, I learned that most people in Israel consume cold products to cool themselves off. Anyway, we got done and we are getting ready to meet at the Ulpan Neve Tsedek.
June 22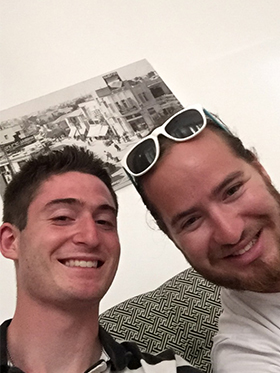 We met the head of the Jewish Federation of Los Angeles at the Ulpan Neve Tsedek. Her main focus with Federation is to work with nonprofit organizations for financial support. NGO's in Israel, the government does not support the really basic things. The NGO's get their money through agencies and federations. She loves that one has the chance to volunteer and make a change, and the chance to socialize with each other. They can join when they have time. She also stated that today's generation not as connected to Jewish community, therefore not as connected to Israel.
Organizations like OneDay help create the Jewish identity by engaging young adults in Jewish values. I can say this is true on some levels, because times have changed and it does not appear as stressed. At the same time, today's generation is also driven and connected through social media, where they can find locations where they could go if they want to practice. It seems to me that today's generation's attitude towards Judaism and Israel appears the same as the message of OneDay; it is our decision, yet if we decide to take part, we have our full heart invested in the culture, religion, and community.
June 23
We met today prior to the beach clean up. I helped craft the mission statement of the organization. It is great that I get to be a part of starting up a company and laying the foundation for making a difference around the world. The beach clean up itself was a huge success with 10-15 people showing up to volunteer! While it was a small amount of volunteers, we accomplished a lot together. It is nice to see individuals care about the beach. Whenever I see trash on the beach in general I pick it up. Just the other day, I was in the water, and I saw a fish struggling to get out of this mesh bag. I thought I could be a hero and rescue the fish, but it was too late. The fish went belly up when I took it out of the mesh bag and put it back in the water. This is why we must keep our Earth clean, because animals and the environment comprehensively will suffer because of the carelessness. There are also plenty of trashcans on the beach. Keep our beach clean, and keep our Earth safe.
June 26
I woke up today and took the bus to an Aroma out in Ramat Gan. This part of Tel Aviv is more of the metropolitan side, and it is nice. I met with the group and we discussed the plan for the press kit. I had a breakthrough last night due to the outline and goals. Now that I have this outline, we can get moving. Here are the goals.
PR kit final draft (Before graphic designing)
One pager - final draft
Advanced "one pager"
Branding
Newsletter
Newsletter for partners and donors
Holiday greetings
Board invitation letter
Possible Ted presentation
Since I was wired up with ideas, I used our meeting time to work, present my ideas, and get started on these goals. It was a successful meeting. On the way back on the bus, however; a water pipe exploded and I had to help a pair of old ladies off the bus because the water was scalding hot. That was interesting to say the least.
June 27
I did not have work in the office today, so I worked from home. In a nonprofit it is pretty easy to work from home. I worked on the "who/what/when/where/how "portion of the press kit and added a why portion. The press kits I have seen all have the description page, but they do not have the "why" part. I believe this is what will set us apart from other organizations and will provide the rationale for why OneDay is necessary in Israel and around the world. I also asked my boss if I could work on the newsletter, because I enjoy writing and I have some ideas for how to put it together. We will see what happens.
Prior to all of this, I went to Yafo for lunch. I had shakshuka from Dr. Shakshuka. It is a dish served in a pan with eggs, onions, peppers, tomatoes, and if you want, other food such as chicken. We then went to the shuk, which was basically a giant garage sale. There were so many clothes and trinkets that I did not know what to do. One must know what they want prior to going to the shuk, especially in Yafo. I then went back and swam in the beach.
For our Monday Night Activity, we went to Sarona Market and went on a scavenger hunt looking for the buildings assigned to us that used to be Templar houses. We found ours, which used to be a slaughterhouse. I knew a little bit about the Templars, due to the book I am reading, The Last Templar, by Raymond Khoury. We then got dinner and went home. Another successful day in the books.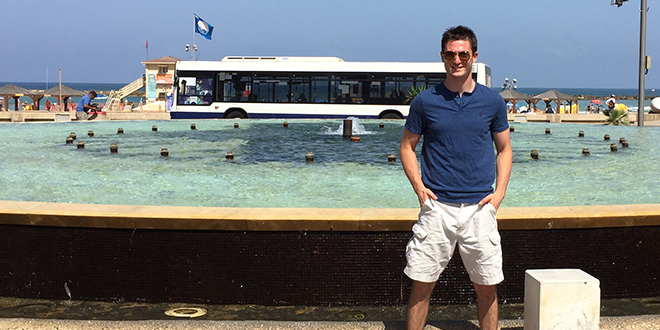 June 28
Unfortunately, today was a struggle. I use this app, Moovit, to help with the buses. Sometimes it is accurate, other times, not so much. I put in the address and the app showed me buses to take. I got on the 61 bus to Ramat Gan for my meeting, but unfortunately, it made a turn off course and began to travel to Herzlyia, which is south and I wanted to go east. I then got on another bus and tried to venture to Ramat Gan, and it began to take me to Rishon Lezion, even further south. I got off as soon as I noticed this, then I took some time to think where I was and evaluate the situation, and then I got on the bus that ended up taking me to Ramat Gan.
We discussed our goals as a team and how we will accomplish them and when. It was a productive meeting, brunch included as well! We are a very cohesive group and we all get along. This is what OneDay Social Volunteering is all about; working to improve society cause by cause and enjoying the company of the team while accomplishing our task. I then went to Nachalat Binyamin to shop for artsy gifts for the family and the beach. I like to go to the shuk every other day, and the beach I go every day, sometimes twice including the night, because I want to take advantage of every opportunity Tel Aviv has to offer. This includes Israel as well, it is a beautiful country, and so I must make the most of it and have the experience of a lifetime.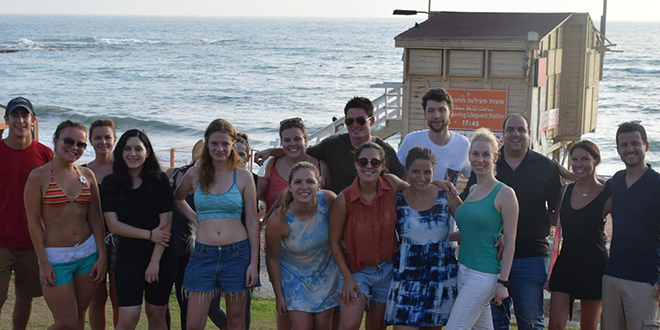 June 30
July 3
We had a meeting today in this nice office building. It looked very sketchy from the outside, but it was a beautiful space on the inside. We discussed a lot, mostly regarding donors and what they would like to see. I came to the conclusion that most donors are interested in a specific subject; example, if they want to contribute to Holocaust survivors, they would like to see events that support Holocaust survivors. Events should be specific to donors' interests. We also discussed the format of how an event should be. I proposed this:
Starting Speech of event leader, and maybe the person we are helping (IE: Elderly Person being helped move or rearrange her things).
Ice Breaker
Team Building Activity
Event
Closing Activity; What one got out of the event
Social Activity where we have the option to discuss the event further or relax and enjoy each other.
My boss loved this format, "Perfect," he said. He also mentioned this format should be used for future events and I should come up with icebreakers, such as the human knot, where the wind blows, or a superlative game. I am really excited for everything to come together. I also finished the newsletter, which my boss told me to send tomorrow, even though it is due on the 9th, so I got my deadline pushed up six days. I will send it tomorrow. It looks beautiful.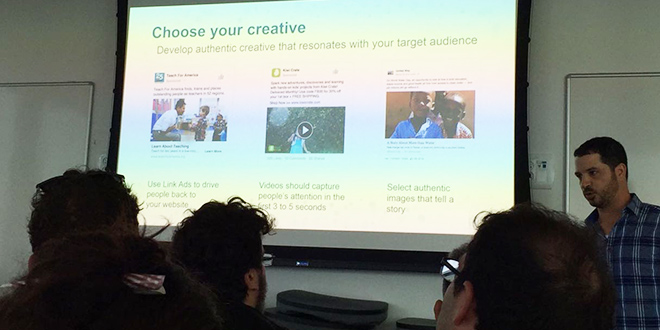 July 4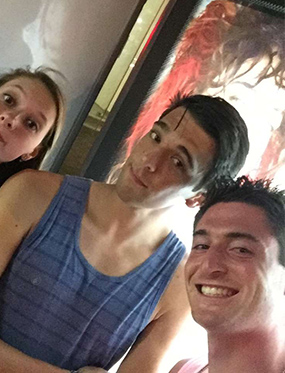 July 4th is not celebrated here, but while we were working, the boss messaged us via Facebook and told us to go celebrate the day. I got the newsletter done and sent out and I planned out the rest of when our PR goals need to get done. It is important to have a schedule and know what one needs to do. My boss loves that I ask for jobs. One needs to take initiative, because in a start-up, not everything is going to be step-by-step; one must be ready to take the lead at times.
The group liked my mission statement and purpose for the company, so I love that my ideas can impact the growth of OneDay. Anything I can do to help. I am going to be working on the newsletter for donors, as well as forming some birthday cards for volunteers to make them feel welcome, because they are. We want the volunteers to enjoy themselves and also come back to improve the community. Speaking of volunteers, I am going to a community gardening event Friday to see how the team leader runs the event. I am excited to be eventually leading one of these events as well.
July 5
I worked from home today. I got my goals and objectives organized and put them on my calendar. I plan on working on the donor newsletter and hopefully obtaining a list of volunteers with their birthdays. I also look forward to helping write the board invitation letter. I am gathering my research and getting organized in order to accomplish the task. I am really enjoying working with my teammates. Tomorrow, I am going to Gush Etzion, so I will work a little bit on the bus. Thursday we have a meeting at 10:30 a.m. then hopefully a branch meeting after for PR.
July 6
Gush Etzion. We started off traveling. We went into the West Bank to go on a hike to this winery, where we discussed the history of the settlements as well as the conflict from a political standpoint. I really liked our guide, Eytan, because he wanted to get to our destination in a timely manner, as well as give us a complete historical account of the West Bank. I sat back and listened to him talk about the conflict between Israel and Palestine, which is what I normally do when the subject comes up. This time, however, I became intrigued, especially when he talked about the Sharon annexation lines. After he talked, we saw what I could say was all of the settlements in the region, including the ancient cities of Beitar and Zachariah, where Jews stood up to the Romans regardless of strength or size many years ago. I asked Eytan more questions about the Sharon partition lines on the bus and he was more than happy to talk to me about it, giving me vital information.
We then arrived at the winery, where we learned how wine was made. They do not squish the whole grape because the pit leaves a sour taste, so the machine presses gently to get the juices out for fermentation. We then had lunch and sampled a red and a white wine. Lunch included eggplant, bulgar with cranberry and parsley which resembled tabouli to me, thin pizza with caramelized onions, salad, and these potatoes with a sweet and sour glaze. Needless to say I was full going into my next discussion. This was with a guy named Nachul. He was speaking to us from a standpoint about how both Israeli and Palestinians need to change their language and mentalities from violent to peaceful before there could be a solution. He started out with the mentality of Palestinians are the enemy then got older and realized that with a peaceful mindset and focusing on the positives and how much our relationships can grow. It is mentalities like that of Nachul's that drive the effort towards world peace even further, and it was a privilege to be a part of that discussion.
On the bus, I finished the company's one pager. I will be sending it off the next day prior to my meeting tomorrow night. I am happy I can get things done timely and efficiently. I also have an event on Friday, which is a community gardening event in Rishon Lezion. I will have my gardening gloves and shovel ready to go.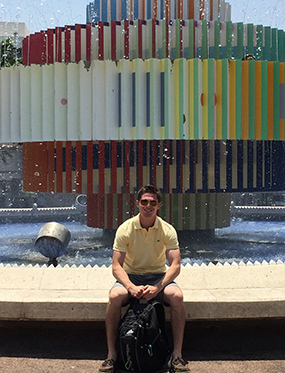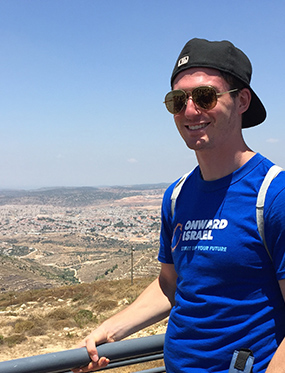 July 7
July 8
Today was the community gardening event. A school and also at-risk teenagers use the garden during the week. I met the OneDay Tel Aviv branch staff. A small number of volunteers came out, however, we cleaned out the garden well. We got rid of the weeds and invasive grass plants that take away the food and water that the flowers and plants need to grow. I learned a lot about gardening. They re-use everything, including the dead weeds and grass to cover the soil so the plants are protected from future weed sprouts.
It was a hot day, but there was plenty of food and water to keep us entertained, as well as each other. When the day was done, the garden was clean and I feel it is safe to say we all felt a sense of success and made at least one friend that day!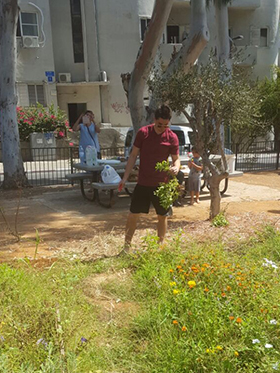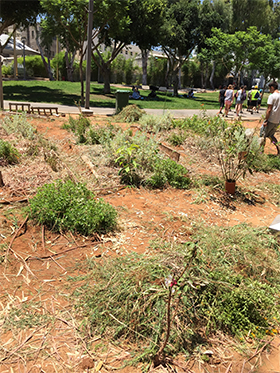 The rest of the day, I went to the beach and taught myself how to ride on top of the wave to shore, so exhilarating. I also made guacamole for a Shabbos get together. It did not look the best, probably due to all the paprika I put in, but tasted excellent. Shout out to Lily, Haley, and Mara for the chips. I also biked to Yafo, and stumbled upon an Eid Mubarak celebration going on at Sir Charles Park. I felt a bit out of place, but as I slowed down, I was invited to taste a kabob. The place was insane. I've been to St. Charles Park and it was never this crowded. Families pitched tents and were constantly grilling, listening to music, and having a wonderful time. I felt blessed that some people took me into the celebration, even though their English and my Arabic was limited, or in my case, nonexistent. I had a blast, what a great way to end a great day!
July 10
I went grocery shopping on Dizingoff Square, because I can get a lot of groceries for a cheap price. I am eating well here. The fruits and vegetables are fresh as well as the pita and other groceries. After I did that, I got 7 NIS falafel. I like all falafel places here, but if I get a falafel for 7 NIS, and the guy loads it up with everything, I will happily walk to the shuk for it. He says "falafel?" I say "Ken." "Kol?" Everything. "Ken" This is what I would call budgeting correctly. I also got a carrot juice (meetz gezer) for 5 NIS. Delicious, nutritious, and frugal. I should be on one of those nutrition for cheap shows.
Anyway, I went to my meeting. I took notes and came up with a new format for the newsletter, which I sent out to the boss and the other chief executive officers. I am also creating a newsletter process, which includes when and how the newsletter should be sent out, who will write it for the month, and what medium they will be sent through.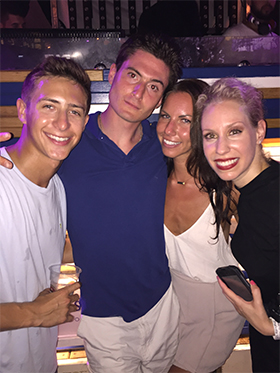 After the meeting I went out with a couple coworkers of mine to get to know them further. I've been meeting up with a couple of them regularly at the beach, but some I would like to get to know. I feel that most of us are really gelling together. It is nice to work with people that want to work but also want to experience Israel, just like myself.
Another way I experienced Israel was the Euro Cup Final at Lee's workplace. We watched Portugal beat France 1-0 on the rooftop of his workplace. It was a surreal experience. They had snacks, pizza, and a giant projector overlooking the city. It was a great way to end the day.
July 11
Today, I went to the gym. I then cut up my watermelon, and finished the newsletter and one pager for comments and edits. I examined our press kit and made comments and edits on that as well. That was the extent of my workday.
I then went to Sarona Market by the Azrieli Center. I wanted to try everything. There are so many places I want to go back to, such as this dried fruit stand, as well as this pasta place. There are many more, but I got this type of sharp cheddar from La Formagerie, Truffle gelato from the gelato factory, as well as some fig jam for my mom, because she loves jam. I do not think she has ever had fig jam before, so this should be good.
Our evening activity consisted of this graffiti tour. We walked around the artsy Florentine neighborhood taking pictures of graffiti. The pictures are attached. My roommates and I later went to the Tel Aviv lightshow. This show was fun to watch. The fountains reacted with the lights. I then had a glass of cabernet overlooking the beach, and went to bed.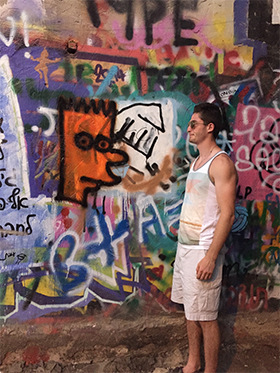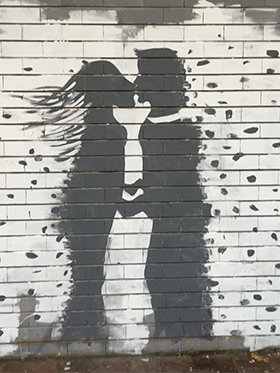 July 12
Today I packed my lunch and headed to the beach with my roommates for a picnic. I made myself a turkey sandwich with spinach, tomato, this cheese that I like, and hommos. We sat under these nice palm trees looking out over the beach. The water was at a perfect temperature, because July tends to be the hottest month in Israel, or at least the most humid. We could see Yafo in the distance to our left, always a pretty sight.
I then got a smoothie, which was milk based and had mango, strawberry, kiwi, and banana and I could pick whatever I wanted to throw in there. I might make that my smoothie place. It was right next to the Dizingoff Antique Shuk, and I figured since it only takes place Tuesdays and Fridays I would take a look around. I spotted this pin from the IDF, and I grabbed it. I found out it was a paratrooper pin from the Kfir Brigade, the youngest infantry division in the IDF, from 2005. I thought it was pretty cool. I then went to the gym afterwards for leg day. Once that was done, I went back to the beach to do some work with my coworker, Cody, from Onward Baltimore. He likes my work, and I like his as well. It is a nice business relationship. It was his birthday and he invited my roommates and I out to have a drink or two. A couple other coworkers were there as well, and it was a nice experience.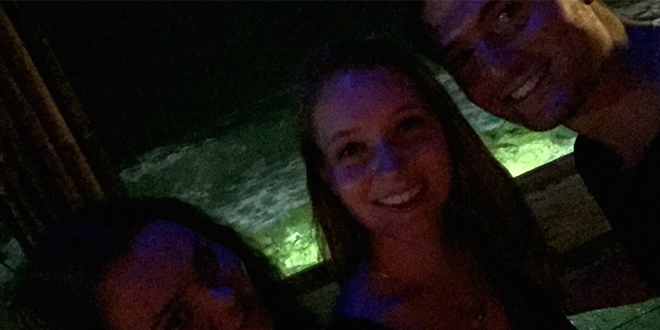 July 13
I packed for the Negev tomorrow for our overnight trip, which should be fun. I went to the gym, made edits to our Press Kit, and then went to visit Sammie at Herzlyia Beach by where she works. We went to the beach and relaxed. The beach was beautiful and relaxing. The rocks were so close! The water was crystal clear and the sand was soft as a pillow. We grabbed some sun, then Lily made us stir fry with rice noodles, broccoli, zucchini, and onion with teriyaki sauce. We then went to a Mexican place for a margarita. I have seen a lot of diversity here in Israel. I have seen Turkish, Georgian, Chinese, Japanese, Czech, Austrian, American, Kurdish, Iraqi, Persian, Moroccan, Ethiopian, and Eritrean places. Israel celebrates this diversity well, especially through their food. Israeli food is my favorite, but it is nice to grab something different every once in a while.
July 14
South Negev: We arrived at the Shanti House in the Negev, a house for kids who are in bad home situations escaping from them. Sometimes, the kids are not necessarily in any danger, but just need a little help to sort out the situation. We listened to two kids and their stories, which were powerful and deep. One was a refugee and another was badly abused. The founder started Shanti House in her apartment for kids on the streets to go for Shabbos dinners. It eventually turned into a non-profit organization. It had a theatre, pool, animal therapy room, etc. These are normal citizens, not professionals, trying to provide kids the love they need. Why is this not in the US? Maybe I should start one.
After the Shanti House, we went to the acting school of Beer Sheba to participate in an improv activity. We did word association games, multi-tasking (imitate moves, answer math questions, and word associations), tongue twisters, etc. Everyone participated and I feel like this was the activity that brought us closer as a group. I speak for everyone when I say this was a good bonding activity. I never did a lot of acting or stage-play activities, so it was great that I could especially step outside of my comfort zone in order to have fun and not care. I highly recommend this.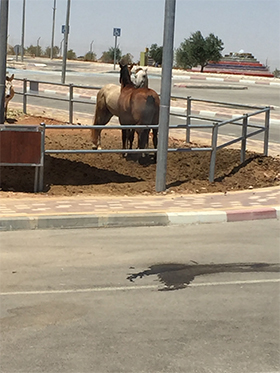 We then ventured to Beer Sheba to tour the neighborhood of Daled. We went across the education bridge, which connects the city of Arkmo with Daled. Arkmo is where more of the successful residents such as doctors, lawyers, and professors live. A while ago, kids were playing by the train tracks and accidents were happening, so the mayor of the town put up a wall dividing the cities, essentially cutting off Daled. There is also a wall Ben Gurion University put up closing in Daled. It is unfortunate, because Daled kids will not be able to get into Ben Gurion University because they don't have the necessary tools to help themselves get in. There are exceptions, but based off of what the tour guide told us, it is hard to get out of Daled, almost impossible.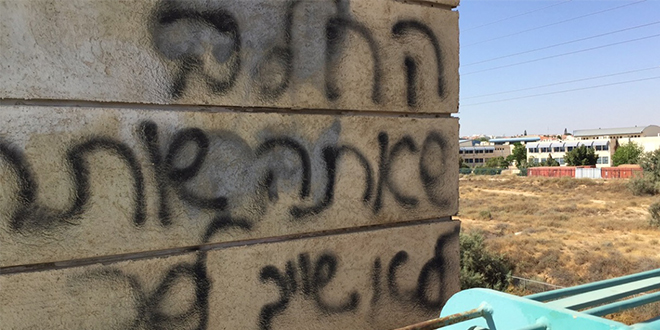 We left Daled for the Bedouin Tents. We set up our beds under our tents. I met this desert cat I named Lentil. He was cool. I then went exploring and sat on a bench nearby. A soccer ball came near me. I picked it up and it was three Bedouin boys. I passed it to them, and they passed it back. I was surprised, and we played one-touch and juggled with each other. It was nice to play with those kids because regardless of what language we spoke we all spoke ball. It was an experience that I will not forget.
Speaking of experiences, we had a traditional Bedouin dinner. It was their version of pita, hommos with chickpeas and oil, tahini, cooked carrots, cabbage, Israeli salad, rice and shawarma. I could not stop eating. I had tea afterwards, my favorite. I had five cups. I then chilled with the camels afterwards and had a bonfire, then went to bed. It was not cold at all.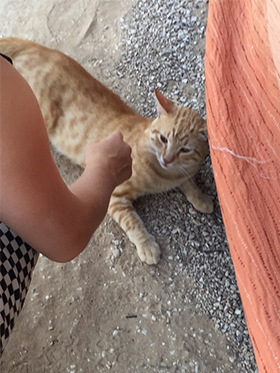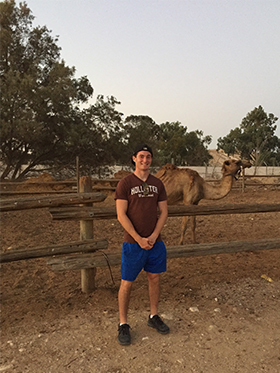 July 15
I woke up at 5:30 a.m. to Lentil, as well as the sunset. I got up and had a Bedouin/Israeli breakfast, which included peppers, tomatoes, cucumbers, tahini, eggs, and tea. I tried to pour it myself but one of the Bedouins poured it for me. I know it's what they "have" to do, but I'm not a fan of people handing me things I can do myself, but I was polite, as was he.
We then went on a hike in the desert on the hottest day of the year. It was long, but the scenery, cliffs, and canyons were fantastic. I ate saltbush, which helps retain water lost from your body. We then went to this winery, where I sampled some wines; Kedem and Somek were my favorite. I am a red wine guy, due to the benefits of the blood flow. I then had mint tea, and then we went to David Ben Gurion and Paula's grave. Ben Gurion was the first prime minister of Israel, and was known for his development of life in the Negev.
After the desert, my roommates and I cooked Shabbos dinner, which consisted of pasta with chicken, meatballs, and veggies. It was Lee's birthday too, so we had a cheesecake for him, drank, went out for a bit, then watched a movie
July 16
Shabbos Beach: I went to the beach with my roommates and played matgot, the ping-pong air game. It was a lot of fun. The water was very nice. Haley and I actually ended up getting bit by a couple sandsharks, at least that's what we were told. After we got back we went to Shuk Laila Batahana, an outdoor market. There was salsa dancing, craft shops, food stands, and stores. I got a sabich. It was great! When we went home, Lee played a game of HORSE with this boy, and he was able to teach him in Hebrew.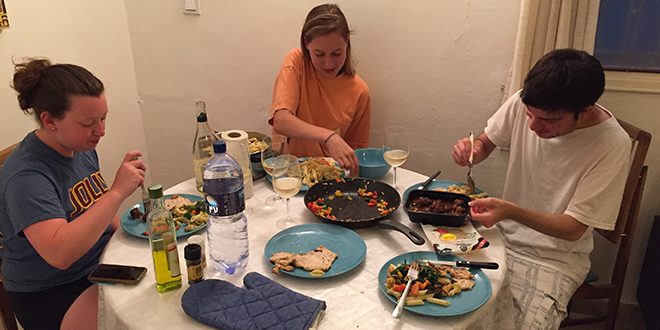 July 17
Surfing in Herzlyia. I went to the gym, and then went to work. We discussed our goals, which I covered in my notes:
Create some sort of model for process: Who communicates with who? Who gets it approved? How should it be sent? (See previous notes.
Chop wording for one pager/advanced one pager
Send donor newsletter: Work on Donor Newsletter; Make it more like a cover letter than anything else.
Start Board Invitation Letter; Make it very specific, make it more about the aesthetics; create a OneDay letterhead; place where things would go, how they work, what comes before what:
After work, I went surfing with Sammie in Herzlyia. There, I met her coworkers who were chill. One of her coworkers was from Solon and knew my sister, Sydney. Our surfing instructor, Guy, was helpful with getting us to get up on the board in one fluid motion. It took a good amount of tries, but in the end, I finally got a wave or two!
After I grabbed the bus home, I headed to dinner with Haley, Lily, and Lee. I ate shawarma stuffed with Israeli salad, onions, hommos, tahini, and spicy sauce (harif), and amba with endless salad (amba cabbage, carrots, pickled onions, roasted eggplant, and tahini dressing). I was stuffed like the shawarma pita I had.
July 18
I went to the gym, then the beach. After the beach, we went to an Onward Conference, where all the Onwards came together to do these seminar workshops. They were helpful. The first one was called 'The Perfect Pitch,' which taught us how to persuade the audience. The second one was about communicating in the workplace, what to do in the environment. As a communication studies major, I learned a lot of this material in my college courses, and this material is super helpful for my job!
July 19
I went for a hike in Tel Aviv State Park, Ein Afek, in Petach Tikvah. We traveled around the fortress, and by lily ponds. It was very pretty, and there is a lot of history surrounding this place. It is incredible to think how old and how much history Israel is. The US is a baby compared to Israel.
July 20
Not much happened today, other than the fact that I used the information I received from Monday to help me create the donor newsletter. I learned that it should be more of a cover letter to entice donors to donate to our company. Here is how I structured it:
Who we are and what we do. Literally one sentence. For example; "We are…and we (cite mission statement or purpose).
Background: Describe your team and who you are, and who is missing; say what you need.
Problem + Market= Opportunity: Address the problem to the audience members, who are the market, and state how it provides opportunity
Solution: How to fix the situation with the opportunity
Competition: Why our company as opposed to others
Model (or if not, say it is included in the PR Kit)
This process was straight out of my first workshop. It is incredible how much I learned from this program. I am thankful and I appreciate the opportunity I had to go on this trip and experience Israel; in a work environment, as well as an experiential one. Thank you to all who have helped me get here.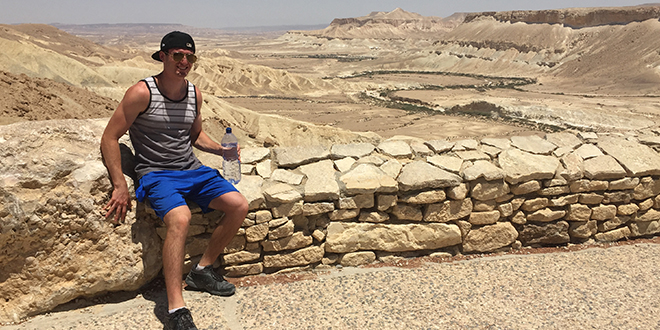 July 21
The Pride Parade in Jerusalem. We got down there and grabbed a Cofix for five shekel. We then went to Mahane Yehuda Market and explored. The shuk was huge. I know Shuk Hacarmel is big but there were twice as many fruits, vegetables, and even full-on restaurants throughout. We then went through Mamilla to get to the Wall. The shuk is basically a giant garage sale full of ornaments, jewelry, traditional clothing, and other knick-knack items. The shuk also had a shawarma place where the pita was stuffed with chicken shawarma, salad, hommos, tahini, chickpeas, and grape leaves. There were many juice stands too.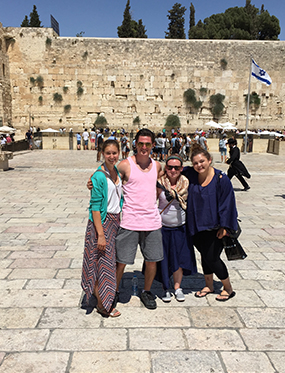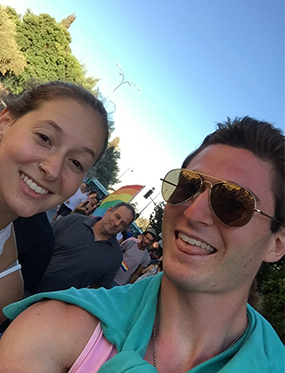 We finally got to the Wall. The girls had to put on long pants/skirt as well as something to cover their shoulders. I went in there and figured I should at least put tallit over my bare shoulders. I did that and talked to the Wall for at least 20 minutes if not more. It was an experience I will not forget. Every time I have gone to the wall I felt a spiritual burst of positivity flow out of me.
After the Wall, we walked towards the beginning of the parade. The park was packed with rainbows and interesting people. Also, a wedding took place, which was nice to witness. They had a chupah and the two men kissed. I would not call myself an advocate for LGBTQ, but I believe everyone should have equal rights regardless of sexual orientation. Never would I have imagined myself witnessing a pride parade in one of the more religious cities in Israel. I felt safe, because there was so much security. Each IDF soldier, security guard, policeman, retired IDF member, were within five feet of each other. Not only did we witness this parade, but also we ended up being a part of the parade, which was intense, but in the end, we got out and ate at this French place on Ben Yehuda Street, witnessing street performers and live music. We also went to the night market. Today was a packed day full of adventure and fun; tomorrow we will have even more fun.
July 22
We woke up and went to the shuk. I grabbed a falafel and a watermelon, cantaloupe, and banana smoothie. I also picked up some groceries for our big brunch tomorrow that we are hosting! I am super excited for that. We had to get ready for the escape room in Petach Tiqva though, so I will save discussing the brunch for tomorrow. When we arrived, the room was so official; I thought in one of the rooms it was an office space. I saw a North Korean flag, to which I thought, "why?" I then realized the theme of the escape room was to break out of a North Korean prison camp. We had to break out of our handcuffs, which left a mark on my wrist, cause an electrical short to release us from our cells, and break into the control room. From there, I had to play the part of the prison control room monitor and answer the phone from a prison manager and my "wife," and I had to figure out clues to enter on the computer to disable all the systems. We also had to use a 3D printer in order to make a key to get us to the next room. Once we crawled through some tunnels, we reached the laundry room, to where I grabbed a guard jacket and a fake pistol, put everyone in the laundry basket with clothes on top of them, went in, and escaped through the laundry chute. Before I went, the guard asked "Guard, what are you doing?!" I froze, and I took the gun and went, "PEW PEW" and threw the laundry over him and went through. We all had a good laugh, and even got to watch ourselves break out.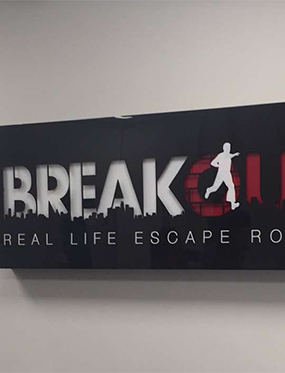 When we got home, we made dinner and got ready for Avicii. Apparently, this was his last concert ever, so it was a huge deal. We took a taxi to Rishon Lezion and listened to two warm-up performers that were also incredible. He finally went on at 1 a.m. but it was worth it. There were so many lights, flashes, hands in the air (as well as people), and people singing their hearts out to the songs. It was an incredible concert with everyone coming together to listen to music and have a great time, whether it was your best friend or complete stranger. At an event in Israel, when it is an activity where everyone wants to be, everyone stops and bonds with one another in some way.
We finally got home at 4:30 a.m. and realized we had to be up at 10 a.m. to cook Shabbos brunch for some of the Onward Cleveland group. We crashed immediately, then woke up and began to cook. We all made shakshuka, challah French toast, and potatoes. Our neighbors from Mendele brought over Israeli salad with tahini, as well as chairs. Matt and Ben Lauffer from Dov Hoz brought over pita with hommos, and Kyle and Elana brought over grapes and watermelon.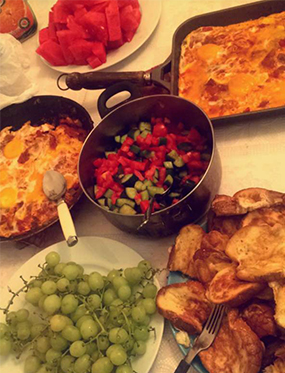 The brunch was a huge success with everyone there coming together and enjoying one's company. People also helped us clean up. After our post-brunch nap, we all went to the beach. That is what people do on Shabbos here on a Saturday; everyone goes to the beach during the day because nothing else is open, for the most part. My roommates and neighbors all went back at around 5 p.m., while I stayed a tad longer to meet my good friend Tamar, with whom I worked with at the Mandel JCC the summer of 2014 when I was a companion counselor and she was the Israeli specialist. I had not seen her for two years. We caught up and updated on each other's lives since we had gone, and discussed my time in Israel. It was so nice to see each other again. After that, my roommates and I went to dinner at the Thai House, and went to bed.
July 25
I worked for a part of the day, then spent some time at the beach. We then made rice with vegetables as well as homemade pita chips. After that, we went to Nola bakery on Dizingoff, where I got a peanut butter cup. It reminded me of Reese's. It is nice to have something sweet every once and a while.
Lily, Haley, and I ventured to Hayarkon Park for a picnic. We made sandwiches as well as brought Israeli salad. We walked around the park and saw some cool birds, such as the green one and some funny looking geese. After we got back, Lee cooked us dinner, we went to our Monday night program, then went out for a little.
July 26
I went to Jerusalem for the morning and lunch with Haley. I explored Mahane Yehuda Market and Ben Yehuda Street. I bought a chai necklace, a tank top, as well as a peace shirt translated into English, Arabic, and Hebrew. I also got a candle for my sister. Smoothies were my lunch because they were just too good. The first one I got included banana, strawberry, and dates. The second one I got included Mango, blackberries, blueberries, watermelon, cranberries, and banana with a milk base. He kept going and I thought to myself "You can stop at any minute now. " It was delicious. I then went to the gym and the beach when I got back to Tel Aviv.
July 27
Our final tiyul was a trip to Haifa. We started out in the German village, then made our way up the Baha'I Gardens. We made our way to the other side, then took the bus to the top. We could see the whole Haifa port from the top. I grabbed many pictures, and took in the view. I did not even feel the humidity and the heat. We got back on the bus and drove to a mosque where we listened to an Imam talk about how the terror groups we see in the news are not Islam. He talked about how we must love thy neighbor, regardless of word or deed, and it made me further realize the three big religions are all the same. I asked why the media portrays Islam in a radical light; he said, "That's the billion dollar question. The media does not write about reality. We have a big event tomorrow with a thousand people coming from all over the world here. I called the media. Do you think they will show up? No, no they will not." It was very sad to hear, because this event would be nice to see in the media, a good change of pace for once. This was probably my favorite part of the trip because he talked about peace, love, and having compassion for one another even in a conflict. He was a nice man who just wanted to partake in tikkun olam (repairing the world). Like Nachal from the West Bank, these thoughts from the Imam are considered radical here. There are people in Israel, Muslims, Jews, and Christians, who are willing to coexist with one another, and we saw it in Haifa today.
"If you do not show your fellow human compassion, you are not human."- quote on mosque wall.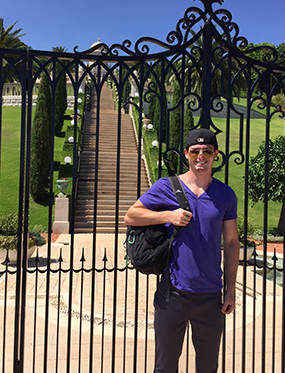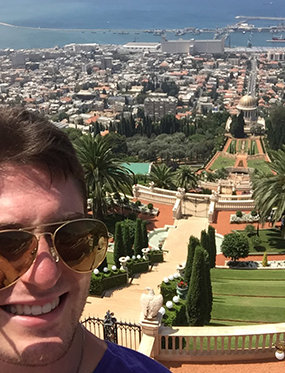 We then visited the Druze village, where we had lunch at a Druze residents' house. The food was delicious. We then hiked down to Elijah's tomb, where I stood and prayed a bit. It had that Western Wall element to it, which helped me take my mind off the heat and reflect on the day. Sammie, Haley, Lily, and I then ate at Port Saed (they did not want a piece of my chicken liver), and ventured to the port for the lightshow. Overall, the day was great; everyday is great.
July 28
I finished the Advanced OnePager for our company. I have also finished the newsletter workflow, the general one pager, the strategy of the board invitation letter as well as a sample one, the strategy for the donor newsletter, and the greeting and thank you cards (with the help of my coworker, Aimee, she did that ). I feel accomplished and ready to do even more. It is a shame that I have a few days left. I won't think about them though.
---
Nathan Lapin is a recent graduate from The College of Wooster, with a background in Communication Studies and Education. He is currently interning at a start-up called OneDay Social Volunteering as a Public Relations Manager, targeting 18-35 year olds for unique, hands-on volunteering programs.
---
Related Items