07/10/2015
Together For Our Sister City Of St. Petersburg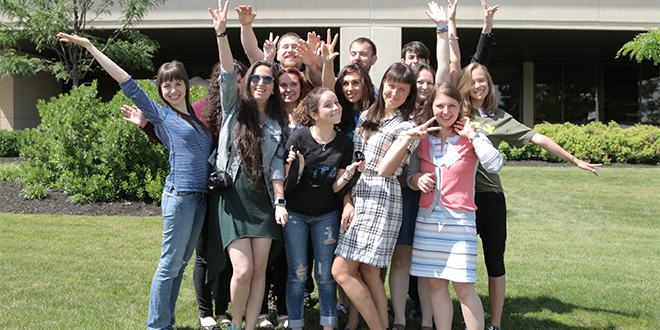 Energy and enthusiasm filled the room as fifteen young volunteers from our sister city of St. Petersburg discussed their dreams for the future. Teamed with local Cleveland professionals, they sat and talked for hours about how to develop their projects for the betterment of the Jewish community in Russia. And just like that, over coffee and muffins, people from two entirely different parts of the world connected to make a difference.
These life-changing connections are made possible through the Jewish Federation of Cleveland's Lehava Leadership Program, which mentors young and aspiring volunteers and lay leaders from St. Petersburg. Each year the participants come to Cleveland― some traveling out of Russia for the first time― to train with Cleveland professionals in their areas of interest. Here, they learn what makes Jewish Cleveland thrive so they can replicate some of the strategies in their own community.
According to Katya, one of the key staff members, "Cleveland is a good model because everything Jewish in St. Petersburg is connected to Cleveland. Everywhere you go―every Jewish building, every Jewish classroom― exists because of Cleveland. It's embedded into the culture in St. Petersburg."
The Federation has forged a powerful connection with the Jews of St. Petersburg through initiatives that are rooted in the Jewish values of Klal Yisrael (Jewish Peoplehood) and Chesed (compassion). In 2006, the Federation helped build YESOD, a state-of-the-art community center that was the first of its kind in almost a hundred years. Since then, the center has become a hub for Jewish life for the hundred thousand Jews who live in St. Petersburg.
Children, families, and seniors have access to over forty different programs that never existed before in the areas of arts, education and social welfare, helping renew and revitalize Jewish life and culture. Today, we are educating a new generation and developing a strong cohort of Jewish lay leaders and communal professionals so that the people of St. Petersburg can thrive. The Lehava Leadership Program teaches these young volunteers how to collaborate, fundraise and plan for the Jewish future. This unique program, in partnership with others, aims to establish self-sufficiency so that Jewish life lives on.
"When I was small, I knew I was a Jew, but I had no connection to Jewish community life until I moved to St. Petersburg," said Rose, another Lehava participant. Today, in the true spirit of L'dor V'dor (from generation to generation), Rose, along with her husband, Vlad, has co-founded a unique caring service for the elderly, Jewish Values 90 Plus. Their goal is to document stories and experiences of the aging Jewish population in their hometown in Russia. "I want to build bridges. I want our two generations to have a place to talk to one another," she said.
In a crowded conference room in Cleveland, Rose sits across the table from experts from our community's genealogical society and historical archives. She listens and learns about the work of these local Cleveland organizations, asking question after question and taking copious notes. This is her inspiration returning home. This personal and powerful exchange is helping create something new in St. Petersburg. "The Lehava program has been a great experience and I'm very happy that I've had this opportunity. For me, this is only the start," said Rose.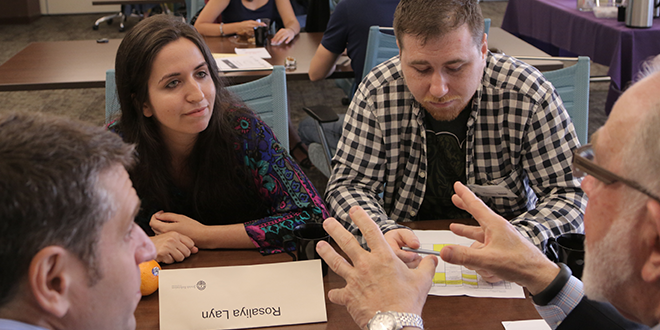 ---
Related Items