04/12/2021
Bringing Holocaust Education to Students Across Ohio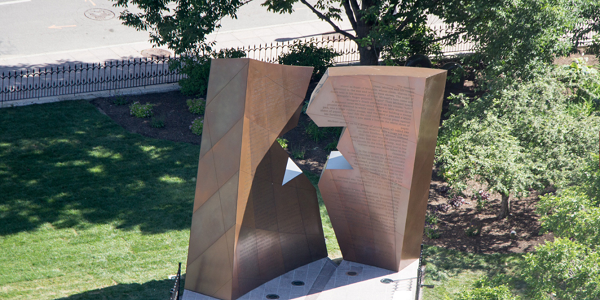 Howie Beigelman, director of the Ohio Jewish Communities (OJC), did not need to see the research to know there was a problem. "The lack of Holocaust knowledge today is shocking – especially in Ohio," Beigelman said. "Something had to be done to make sure this history will never be forgotten."
Beigelman helped form a group of community leaders throughout the state to look into how Holocaust education can be better implemented into Ohio schools. The result of their efforts was the creation of Ohio State Bill 372 (SB 372) – the Holocaust & Genocide Memorial & Education Commission, which passed unanimously in a bipartisan 30-0 vote.
SB 372 is designed to "help cultivate knowledge and understanding of one of the most tragic occurrences in the world's history and promote public awareness of issues relating to the Holocaust and genocide through public education programs." A 12-member commission, which will include top state educational officials, will initially work out details on how the teaching process will go. "We know the first thing we need to look into is how do we train and teach the educators who will be teaching this material," added Beigelman.
"With the continued rise in anti-Semitism, the timing of this bill is so critical," said Jewish Federation of Cleveland Board Chair J. David Heller, who also serves on the board of the United States Holocaust Memorial Museum. "I want to thank the state legislators for putting this into action and allowing this bill to come to fruition."
"We must study history to better understand the present and inspire in the future," said David Schafer, director of the Maltz Museum of Jewish Heritage.
For example, the museum – which is a Federation beneficiary agency – partnered with The Nancy & David Wolf Holocaust & Humanity Center in Cincinnati to offer joint virtual and in-person programming to increase the amount of Holocaust education in their communities and across Ohio. With the establishment of SB 372, both museums will play an even more integral role in explaining how history cannot repeat itself by offering many of their digital and print material to be used for this education. "Teaching the Holocaust gives students the knowledge and language that empowers them to willfully choose what side of history they want to stand on," Schafer added.
"People who visit the Holocaust museum in Washington, D.C. and the Maltz Museum come out with a much deeper understanding and awareness than they had going in," added Heller. "That's the power of education. And that's why the Federation wants to make sure we're doing whatever we can to provide the resources necessary to educate future generations on these atrocities."
The future of the Holocaust Education Commission is extremely positive. Community leaders, like Dick Bogomolny, are anxious to start working on the curriculum and implementing it into school systems across the state. "Anti-Semitism has been around for generations. But now it's our job to make sure our youngest generations face our history and learn what happened," said Bogomolny, who was also instrumental in gathering materials to present to the Ohio legislators. "And we have to make sure our leadership does something that's lasting. This bill will help assure the history of the Holocaust will never be forgotten here in Ohio."
For more on the Holocaust Education Commission, contact Amy Kaplan at akaplan@jcfcleve.org or 216-593-2832.
---
Related Items