07/15/2015
Meet Jeremy: Israel is my Reality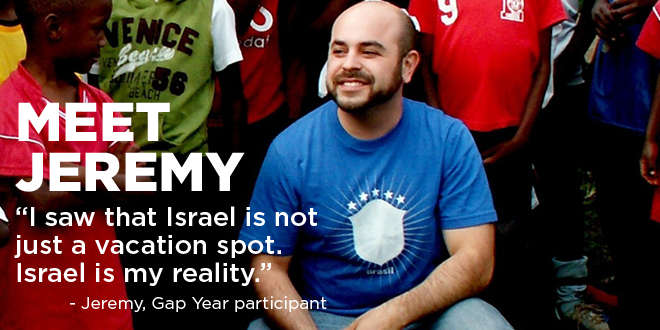 When Jeremy Goldberg's grandparents relocated from the northeast to Lorain, Ohio, a small town 25 minutes outside of Cleveland about sixty years ago, there were many other Jewish families planted along the lake. By the time Jeremy began elementary school, he was one of five Jewish students in his class.
When he turned 10, Jeremy's grandmother insisted that he go to a Young Judaea summer camp to meet more Jewish peers. Jeremy spent the next eight years of his life involved in the organization.
His first trip to Israel, at age 16, was on Young Judaea's Machon teen trip. "During those eight weeks, I saw Israel through windows of a bus. Suddenly, everything I had imagined came to life," Jeremy said. "I got goose bumps like never before."
His year spent in Israel on Masa Israel's Young Judaea Year Course had a different effect on Jeremy. Masa Israel is just one program funded through I-Connect, an initiative of the Jewish Federation of Cleveland, which invites young adults, ages 18-30 to pick their perfect Israel travel experience.
"Israel was my reality and I was able to see that it was also the reality for people every day. As I walked to work in December and January, when the air was cooler and there were fewer tourists, I thought, this is what people encounter in their daily lives," he said.
"I saw that Israelis not just a vacation spot. I saw the poor and the rich. I met students and soldiers. I shared the same bus routes with people whom I recognized more and more each day. I saw the details that I missed while just touring the country. I was able to really experience the culture."
Working at school in Karmiel exposed Jeremy to the Ethiopian community. Inspired by these experiences, and motivated by his previous fascination with African life, Jeremy founded Global Youth Partnership for Africa, a non-profit organization dedicated to fostering understanding, appreciation, and respect between American and African youth through direct engagement in Africa.
Since returning from Young Judaea Year Course, his travels have taken him back to Israel and Africa.
Want to learn more about Masa Israel? Call us at 216-593-2866 or iconnect@jcfcleve.org.
---
Related Items