07/15/2015
Josh and Becca's Israel by Design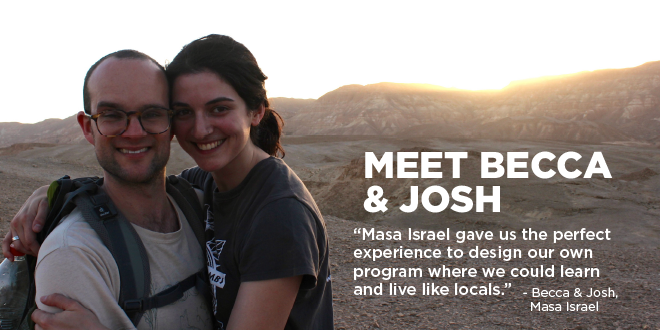 Josh and Becca met as counselors at summer camp and got engaged in August 2014. In the months leading up to their wedding, they spent six months on a Masa Israel Fellowship, living and learning in Haifa.
Masa Israel is just one program funded through I-Connect, an initiative of the Jewish Federation of Cleveland, which invites young adults, ages 18-30 to pick their perfect Israel travel experience. With Masa Israel, Josh, a graduate of The Agnon School, hoped to become fluent in Hebrew. Throughout high school, college, and even his first office job, Josh planned to enroll in ulpan (Hebrew language classes), where he would study Hebrew full time, and immerse himself in the language and culture.
Becca began learning Hebrew as an undergraduate at Brandeis University. In preparation for rabbinical school, which she will begin in the fall, Becca sought an intensive Hebrew language immersion in Israel.
Thanks to the flexibility of the Masa Israel by Design program, Josh and Becca were able to create their own, unique experience in Israel. They lived together in an apartment in ir tachtit – the revitalized downtown neighborhood of Haifa. Josh and Becca directly enrolled in Ulpan Etzion Carmel, one of the leading ulpanim in the country, which was a five minute walk from their apartment, right on the Mediterranean Sea.
"Masa Israel gave us the perfect experience to design our own program where we could learn and live like locals," said Josh and Becca.
Surrounded by young, intellectual, and artistic Israelis, Josh and Becca were able to live and learn in a burgeoning creative community, one that not only welcomed them with open arms, but also helped them practice their Hebrew in an authentic environment.
Want to learn more about Masa Israel? Call us at 216-593-2866 or iconnect@jcfcleve.org.
---
Related Items